FAMOUS INDIAN FASHION DESIGNERS
TARUN TAHILIANI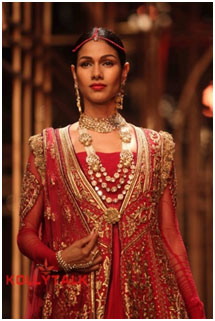 Tarun Tahiliani is a noted Indian fashion designer. With his wife Shailja 'Sal' Tahiliani, he co-founded Ensemble, India's first multi-designer boutique in 1987, followed by Tahiliani Design studio in 1990. Based in Delhi. He is best known for his ability to infuse Indian craftsmanship and textile heritage with European tailored silhouette. His signature is to combine traditional aesthetics with modern design. Over the years, he also became known for his bridalwear
Of late, Tahiliani has taken on several projects in interior design. He has designed interiors for hotels (such as The Sofala, Goa), restaurants (the Aish at the Park, Hyderabad), resorts and homes, and has even begun to event design for Indian weddings. Tarun Tahiliani is to introduce a designer TV made by Vu Technologies.
A Bollywood celebrity costume designer, who has designed apparels for the Indian celebrity beauties like Simi Garewal and Ramola Bachchan. He has always been in limelight. For quite a long time, this Indian fashion designer Tarun Tahiliani had become the talk of town because of Jemima Khan's wedding wardrobe contract. He started off as a fashion retailer by establishing his own fashion boutique in Mumbai. Later on he made a step further starting his own brand label called, 'Ahilian'.
Extremely inspired by ethnic styles, fashion designer Tarun Tahiliani is of the opinion that Sari is the most elegant dress that has a great dazzling effect. He thinks it is the most apt apparel for sensuous look and brings out the beauty of India women in the most attractive manner. He experiments with colors and fabrics and comes up with his own unique classy designs. According to him Sari has the capability of arousing sensation. He is simply fascinated by Chikan embroidery of Lucknow and is often incorporated in his designs. He also makes use of beads and semi precious stones to embellish the ensemble. He strongly believes that fashion is all about your comfort level with a particular attire. The highlights of his designs are: block printing, bandhini styles, beautiful color combination and rich silhouettes. He is unique in designing and this is what sets him apart in the list of fashion designers.
Top Indian Fahion Designers