FAMOUS INDIAN FASHION DESIGNERS
RITU KUMAR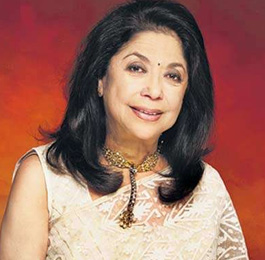 Ritu Kumar was born on 11 November 1944 in Amritsar, Punjab. A native of Delhi, Ritu graduated from Lady Irwin College in 1964 and did her higher education from Briarcliff College, New York,USA in 1966. The ace designer had a humble beginning in a small village, near Kolkata, in 1960, with a set of hand block printers and two tables and today the business has grown to retail from more than 35 stores across the country. Ritu Kumar is the mother of Ashvin Kumar, the youngest Indian writer/director to be nominated for an Academy Award.
An icon of the Indian Fashion industry and a frontrunner in establishing a position for India in the global forum, Ritu Kumar's contribution has been impeccable to the fashion fraternity, both nationally and internationally. With almost five decades of work for display, the designer excels in both traditional and western outfits, though ethnic attires being her specialty. She was the first women to bring the boutique culture to India, under the name "Ritu". The gradual change in the fashion scenario has also lead to a change of designs for her brand. She has kept in sync with the varying times and has effectively brought creativity and innovativeness with each collection.
Ritu holds the status of being a revivalist in the fashion scenario, which has successfully bridged the gap between conservative and conventional style. The brand "Ritu" has acquired great accolades internationally. The designer has not only restrained her work to the fashion industry, but has also dived into the other sectors that offer luxury to the people. The brand also launched a fragrance by the name "the tree of life". In April 2002, Ritu Kumar launched her new sub brand, 'LABEL'. This is a reflection of contemporary trends. 'LABEL' caters to modern woman who is independent and confident. It is focuses on the cut, color, drape and feel of the garment. The brand has made a name for itself universally. It is fashionable, affordable and like all Ritu Kumar products, it is of the highest quality. Ritu has also brought out a book by the name "Costumes and Textiles of Royal India." She has twelve outlets in India, which offer a range of products from the conventional to the contemporary.
Top Indian Fahion Designers