FAMOUS INDIAN FASHION DESIGNERS
SABYASACHI MUKHERJEE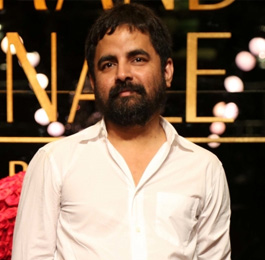 Sabyasachi Mukherjee comes from a middle class Bengali family of Kolkata. His mother, Sandhya Mukherjee worked at Government Art College, and was deeply into handicrafts. His father, Shukumar Mukherjee lost his job when Sabyasachi was just 15 yrs.[4] Sabyasachi's sister Shingini Mukherjee (Payal), who is 7 years younger to him, manages the business of the label.
Mukherjee wanted to study at NIFT. But, his parents wanted him to become an engineer,as they couldn't understand how a course in designing clothes can help him in future career,and hence they refused to fund his admission into NIFT.Sabyasachi sold his books to pay for the admission form and passed the exam After his graduation, he opened a workshop, and started his career from there.
Mukherjee, whose pet name is Pepsi,initially intended to take medicines as a profession, and remarked in an interview that he doesn't consider himself a designer and that he just makes pretty clothes.
Mukherjee also aspires to be a food writer and to conduct a food show. He likes places with a rich food culture such as Spain, Tuscany, Mexico, Greece, South of France,southern Italy He was born in Kolkata. After +2 from St. Xavier's College, Calcutta he graduated from NIFT Kolkata with three major awards in 1999. After graduation, he launched his own label by the same name and currently has retails at New Delhi -Carma & Ogaan, ; Mumbai -Melange & Ensemble ; Kolkata-Espee & Intrigue, and Hyderabad- Origins and Oorja.In 2001, Sabyasachi won the Femina British Council most outstanding young Designer of India award, which took him to London for an internship with Georgina Von Etzdorf, a designer based in Salisbury. He made his international label by winning the grand winner award at Mercedes New Asia fashion week in Singapore in 2003. In 2004, he took part in the Kuala Lampur fashion week, and Lakme India Fashion Week (LIFW).
He earned the distinction of being the only Indian designer invited to showcase at the Milan Fashion Week 2004 and was voted by Asia Inc, a Singapore based business magazine, as one of the ten most influential Indians in Asia. In 2005, he designed the costumes for Sanjay Leela Bhansali's film, Black, Baabul (2006), and Laaga Chunari Mein Daag (2007). He also designed costumes for the cast of Paa (2010), Raavan (2010) and Guzaarish (2010).
Top Indian Fahion Designers