FAMOUS INDIAN FASHION DESIGNERS
ROHIT BAL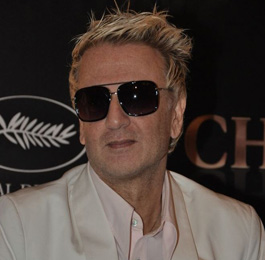 Rohit Bal is a fashion designer from New Delhi, India. He designs for both men and women. Rohit Bal was born in Kashmir. He graduated from Burn Hall School, Srinagar and then received a Bachelors degree in history from St. Stephens College . He also studied at the National Institute of Fashion Technology. Bal started his career with his brother Rajiv Bal in New Delhi in 1986 the Company Orchid Oversea Pvt.Ltd, and started his own first independent collection in 1990.
Style is the mantra for Rohit Bal, the fashion designer from the enduring valley of Kashmir. The "Bad Boy" of the fashion world, as Rohit Bal is popularly called, is known for his sophisticated cuts and breathing fabrics. He weaves in the best for both men and women. His creations are a reflection of his own personality- not restrained by any norms. Rohit Bal's creative mind gives a true bent of spirit in his work as well. Being christened by the Times magazine as the "Master of Fabric and Fantasy", he purely live up to the expectations of being among the bandwagon of the Indian fashion industry leaders. Subtle in his choice of colors, Rohit prefers to use pastels and earthy tones to dress up his men and women. However, there is no one-signature style that the designer sticks to. The brand "Rohit Bal" created by the designer has been doing wonders in the fashion scenario.
He has opened up a flagship store in Delhi and positioning stores at other places like Mumbai, Bangalore, Ahmedabad, Kolkata and Chennai as well. He also plans to open up stores in Middle East and Europe. After making a name for himself in the fashion fraternity, Rohit has also ventured into the designing jewellery for Kirtilals. He also plans to design and launch men's fashion accessories like cufflinks. The clientele list of this ace designer is a long one, some being celebrities like Uma Thurman, Cindy Crawford, Pamela Anderson, Naomi Campbell and Anna Kournikova. Most of his fashion shows in India, New York, Paris and Singapore are sponsored by The Swatch Group and he is also the brand ambassador for their Omega Watches, since 2001.
Top Indian Fahion Designers