CEED ONLINE CRASH COURSE FOR 15 DAYS
AFA is commencing Online live Classroom Sessions for different Design and Art institutes entrance exam preparation from Home. 15 Days special online live crash course is designed exclusively for students to learn all the subjects in detail and qualify the entrance. The Course is conducted by the most experience group of faculties in the field of Art and Design.
Online live classes
Live classes by Experts
Recorded Videos
Play Anytime Anywhere
Pdf Study Material
Study after the class
Online Support
24x7 chat support
Enroll for 15 Days CEED online Live classes. Register now
You can join the online classes from 22th December onwards
( Note :- This course can be converted to regular classroom coaching course by paying rest of the fees)
CEED Online Crash Course for 15 days is a great course that we offer at the Academy of Fashion and Arts for students who cannot attend the regular classes due to academic priority involvement. Therefore, as the No.1 and Best CEED Entrance Coaching Institute in India, we make it our priority to deliver the best guidance for CEED Preparation. We employ the best teaching methodologies to help you through our Online Crash Course to crack the CEED. Therefore, our Live Online Crash Course is very popular among design and art aspirants who want a career in these fields.
About CEED Online Crash Course with the Academy of Fashion and Art
Live Online Interactive Classes
Get access to recorded online video tutorials
Study Materials in the form of Books and online PDF
Crash Course Duration – 15 Days
Course Fees
Amazingly Comprehensive Course Content
Strategically placed numerous centers of the Academy of Fashion and Art for detailed counseling
24x7 Online correspondence facility along with online tutorial guidance for problem-solving
Now let us see the details of the above mentioned features:
Firstly, with our live online interactive classes you will get:
Live lectures from faculties
Live Drawing and Sketching Demo sessions by experienced faculties
Our classes will impart in-depth knowledge in Design Aptitude Test and General Ability Preparation
Live review and Feedback by Faculties on home assignments and Mock Tests
Topic and subject wise doubt clearing live interactive sessions
Regular Online Test for learning reinforcement and confidence building
Secondly, with our recorded online video tutorials you can study and revise anytime, and anywhere. Our CEED Online videos are prepared by our experienced faculty members. We ensure that you benefit immensely from our online video sessions. Some of the basic but important elements and topics that we cover in our video tutorials:
Light and Shadow Concept
2D and 3D Drawing
Doodling
Gestures and expressions
Scale and Proportions
Design Concept inspiration
In Addition, we offer study materials for various Design Entrance Exam Preparation, our CEED Entrance Study Material is an all-inclusive study kit that contains comprehensive books that covers all the important subjects and topics for CEED Entrance Preparation. We also offer online Study Materials in the form of PDF for easy accessibility and compatibility with all computer devices. This makes your learning easy and enjoyable. Here, you find some of the elementary and important subjects that are covered in our study materials: (H5)
Quantitative Ability
Communication Ability
English Comprehension
Analytical Reasoning Ability
General Knowledge and current affairs
Design Work Book
Aptitude Test Book
Moreover, Course Duration – Our crash courses are very flexible. We try to take every individual student's needs and requirements into consideration.
No of Days –
Class Duration –
Above all, our 15 Days Crash Course Content is ideally compiled in such a way to accommodate all the subjects and topics with in-depth knowledge. We look into the fundamental and core training methodology, where-in we impart knowledge in the various aspects of these exams. Our intention is to equip you with all the elements on which this Design Entrance Exam will assess you. Here are the assessment parameters:
Design Aptitude Test / Creative Ability Test
Fundamentals of drawing
Object Drawing
Light and shadow
Perspective Drawing & object
Perspective Drawing & Composition (Memory Sketches)
Color theory and color concepts
Plan and Elevation
Cross section and exploded view of object
Elements & Principles of Design
Doodling, line drawing & Metamorphosis
Scale and Proportion
Design concept- Theme and inspiration
Design concept- Creative Thinking
Logo Design and symbolism
Poster's Design and Typography
Stamp, Banner and hoarding design
Human Anatomy
Identifying problems and problem solving
Designing products
Sequential Drawing
Story boarding
Conventional and Unconventional uses
Futuristic Design
Optical Illusion
Story writing and comic strips
Picture Analysis
Gestures and expressions
Animation and Caricature
Designing patterns & motifs
Shading and Rendering techniques with pencil and color pencils
Visual and Spatial Ability
Observation and Design Sensitivity
General Ability Test
Quantitative ability
Communication Ability and English comprehension
Analytical ability
General knowledge and current affairs
Moreover, the Academy of Fashion and Art has strategically placed numerous Coaching Centers throughout India. Being the best CEED/UCEED Preparation Coaching Institute it is our priority to reach out to every design aspirant out there. We have our centers located almost in all the states and cities for easy accessibility. We have our center located in:
New Delhi – Pitampura, Janakpuri, South Ex, Preet Vihar
Gujarat – Ahmedabad
Bhopal - M.P. Nagar
Chhattisgarh – Raipur
Jharkhand – Jamshedpur, Ranchi
Bihar – Patna
Rajasthan – Jaipur
Kolkata – Saltlake, Park Street
Utter Pradesh – Lucknow
Odisha – Bhubaneshwar
Telangana - Hyderabad
In conclusion, 24x7 expert support and expert guidance is our specialty. The best reason why our online crash courses are popular with the candidates is that they can approach our expert faculties and subject teachers for any kind of doubt clearance regarding the subject.
We also organize regular workshops for revision classes. This enables group interactive sessions for enhancing creativity and innovative idea generation. Therefore, you see how students can benefit from our CEED/UCEED Online Crash Course.
TOP DESIGN CAREERS AFTER COMPLETING CEED
Fashion & Lifestyle Design
Fashion Design
Textile Design
Accessory Design
Jewellery Design
Knitwear Design
Leather Design
Fashion Styling and Image Design
Fashion Media Communication
Fashion Communication
Fashion & Lifestyle Business Management
Global Luxury Brand Management
Apparel Production
Footwear Design
Footwear Technology
Lifestyle Accessory Design
Apparel Design and Merchandising
Communication Design
Graphic Design
Animation Design
Film and Video Communication
Exhibition Design
Toy and Game Design
Photography Design
Industrial Design
Product Design
Furniture Design
Interior Design
Interior Architecture and Design
Ceramic and Glass Design
Transportation and Automobile Design
Environment Design
B. Planning
Architecture
Civil Construction
Urban Design
IT Integrated
Information Design
Digital Game Design
Interaction Design
New Media Design
Universal Design
Interdisciplinary Design
Strategic Design Management
Design for retail Experience
Master of Fashion Management
Master of Fashion Technology
Fashion Business: Marketing & Merchandising
Fashion Business: Lifestyle Retail Luxury Brands
MA Design (Fashion and Textile)
Fashion Marketing
Useful Tips to crack IIT CEED Entrance Exam
CREATIVITY AND INNOVATION
Creativity and Innovation will be your best tools, not only while cracking the CEED, but throughout your design career. And, creativity cannot be learnt or forced upon you. Therefore, you should have the creative and innovative flair in you. It can be improved by your observation skills and stimulating your inner ideas, thoughts and passions.
PROBLEM-SOLVING ATTITUDE
Before problem-solving, problem identification will be a priority. In most cases you may be know what the problem is, but you may have to identify what is the cause of the problem. Hence, only then will you be able to solve the problem.
SOLVE CEED PREVIOUS YEAR'S QUESTION PAPERS
The most important aspect of CEED preparation is solving previous year's papers. The more we emphasize, the less it will be. Solving Previous Year's Papers will not only help you to get a hang of the CEED exam and question pattern but will also help to practice time management. Time management is a crucial factor, as even if you know all the answers, but if you cannot manage time, you may not be able to attempt all the answers.
PRACTICE SKETCHING
The very first focus of a designer would be to develop the concept of the idea, after that, comes the effective communication of the idea. So, without proper concept you cannot start sketching.
OBSERVE OBJECTS AROUND YOU
The fundamental concept of observation is not a very big deal. You can enhance your observation skills just by observing everyday objects around you and then put them into your form of communication like a freehand sketch or a drawing. Moreover, you can innovate them as per your imagination.
GOOD COMMUNICATION SKILLS
You have to really work on your communication skills, during the selection process. As a designer you are expected to communicate your ideas and innovativeness through your drawing. The functionality of the design is also a primary factor. Therefore, in this field visual communication is among the major factors which will be a evaluation element. And in conclusion, you really have to work on it.
VISUALIZATION SKILLS IMPROVEMENT
Imagination skills and visualization skills go hand-in-hand. In your field, sometimes you might have come up with something you never have even seen; in this case you have to completely rely on your visualization or imagination skills, of course, keeping the functionality factor in mind.
IMPROVISE WITH STORY BOARD CREATION
The best way to improvise your story board creation skills is by reading comics strips and watching cartoons. Though may sound childish, but this will provide you with unique plot creation. Eventually, help you to enhance creation abilities and help you to come up with unique ideas.
Therefore, you see how the Academy of Fashion and Art has all these years been able to bring out toppers in the design entrance exams. We cherish and respect the trust and faith that you put on to us. And therefore, we leave no stone un-turned to deliver what we commit.
Live Classes from the Faculties

Sessions conducted in friendly and inclusive environment for better two way communication between Student & faculty
Faculties will teach LIVE for the preparation of CEED where students can interact and communicate with them
All Problems and Solutions will be discussed by the Faculties
Imparting the awareness regarding the DO's & DON'Ts for the Test

Recorded Video Links

Complete set of Recorded videos to see all the utmost important and relevant ways to prepare for CEED 2022
Best and Most Complicated Problems of CEED Exam Solution by the faculties in Time
Examples of Models from previous year examination

"Most comprehensive course designed and delivered by IIT,NID, NIFT and other top art and Design institutes Alumni with special emphasis on Creative Ability Test
Well designed course content covering all subjects in depth
Class tests in each session and assignments for practice
Weekly test series of Institute specific Mock Tests
Regular feedback given on your performance
Home assignments reinforce the concepts and learning.
Difficulties are discussed in class so that the student becomes absolutely clear.
Career guidance along with entrance exam preparation
Course comprises of last years paper and sample questions related to CEED.
24/7 online support via email so you can Share your doubts and problems.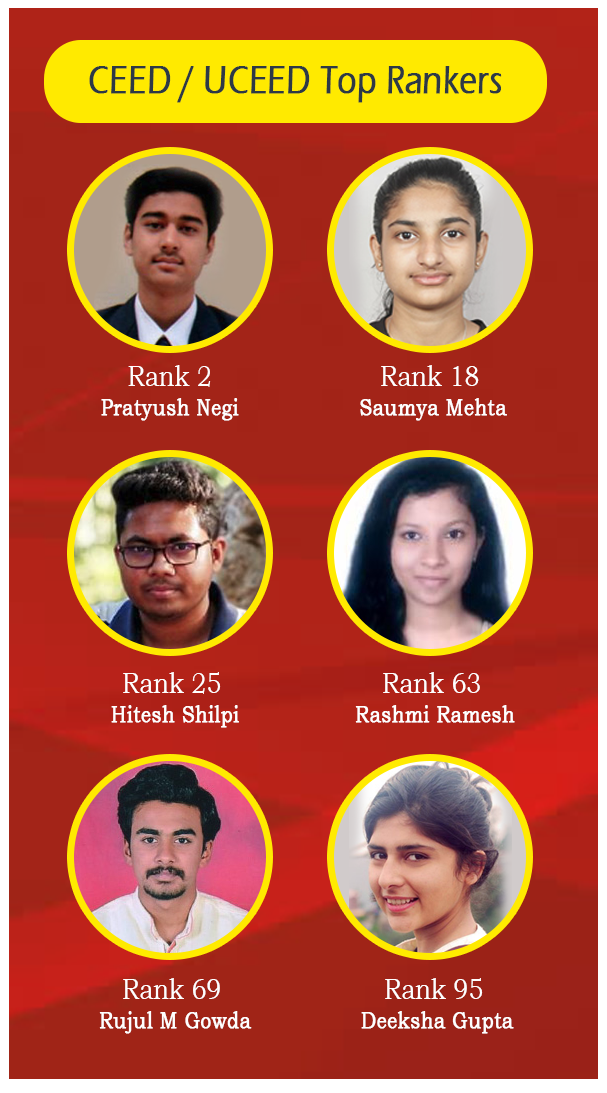 FOLLOWING ONLINE TESTS & STUDY MATERIALS WILL BE PROVIDED IN THIS CRASH COURSE
4 Online Mock Tests as actual pattern of CEED will be included in this Crash Course. You May try Free One Mock Test Now.
STUDY MATERIAL
DESCRIPTION
13 books Set for preparation of CEED
5 Books on Creative Aptitude Test
6 Books on General Aptitude Test, English, Logical Reasoning
1 Book on Art Awareness.
1 Book on Previous Years Question Bank of CEED-PG COURSES with suggested answers.

Sectional Assignments on Creative Aptitude Test
Lateral Thinking
4 Mock Test Papers for NID with suggested answers.
CEED PREVIOUS YEARS PAPER - 2007 to 2018
CREATIVE ABILITY MATERIAL DETAILS
Basics of Drawing -Lines and Shapes
Gradation Chart
Color Theory, Color Schemes and color Compositions
Still Life Drawings, Eye Levels and Symmetrical Drawing Concepts,Object drawings from day today life.
Perspective- Types and Usage
Human Body Knowledge
Anatomy, Proportions and Divisions
Basic and advanced Human Drawings
Hands and Feets Study
Human Features
Animal and Bird Study
Practice Exercises
Color Rendering and Design
Inspirational Design
Means of Advertisement-Visual Communication
Grid Collages
Metamorphosis
Study of Objects and Lateral Thinking
Compositions
Story Illustrations
Pictograms and Signage
Geometrical and Design Exercise
Practice exercises on the topic mentioned in the Creative books to develop
compositional sense
placement of different figures proportionally.
Sense of proportion.
Drawing of human figures of different postures, action and age groups.
Sense of solutions which is required in terms of solutions of different design entrance exam.
GENERAL ABILITY MATERIAL DETAILS
What is CEED?
Eligibility Criteria
About the Course and Colleges
Syllabus and Examination Pattern with Marking Scheme of the Examination
VISUALIZATION and SPATIAL AWARENESS - ORTHOGRAPHIC PROJECTIONS
Plan and Elevation
Identifying 3D forms through Plans and Elevation
SPATIAL AWARENESS - Surface Counting
Counting visible surfaces, 3D Words, Objects
Counting 2d geometric shapes and lines
Counting Vertical/horizontal/oblique surfaces
Counting Complex forms –+3 Surface counting exercise
Platonic shapes surfaces* - Names and drawing
VISUALIZATION ABILITY - Mirror Images
Words and numbers Mirror images
Images Mirror reflections, Shapes, Motifs
Miscellaneous
Water Images
Words and Numbers Water reflections
Images Water reflections, Shapes, Motifs
Miscellaneous
PAPER FOLDING
Materials and Texture
Construction materials
Production Materials (ppt)*
Decoration Materials – Flooring, cladding, paints, plasters etc.
Unconventional materials
Optical Illusion
OBSERVATION AND DESIGN SENSITIVITY
LOGOS and Punchlines
Type of Logos
Designs of Logos
Chronology
Hidden meanings in logos
Punchlines
Perspective
Theory of Perspective – Perspective we see every day or in photographs
Linear perspective drawing 1pt, 2pt, 3pt, multipoint
Perspective photographs
Colour Theory and Line Theory
Colour Theories and Line theory
Elements of Design
Principles of Design
Colour Psychology and Significance
Photography
Evolution of camera
Type of cameras
camera and Its functioning
Technologies and terms
Accessories
Photography Glossary
Typography
Element and Principles of Design
Lines, Shape, Form, Colour, Pattern, Texture.
Art and Architecture
History of Indian Art
Overview of World Art Movements
Social and Cultural Connection with Design
Environmentally Sustainable Designs
Indian Cultural Background & Famous Structures
Musical instruments
Musical Maestros
Dance forms
Crafts and Dresses
(i) Architecture Awareness

India and World Architectural wonders
Ancient Indian art and architecture

(ii)Tallest buildings and Famous Structures
(iii)Environmental Awareness
Climate - climatic diversity in India, coastal regions, deserts, mangroves, plateaus, hilly terrain Demography
Infrastructure – Roads, Stadiums, Institutions
Language and Creativity
Reading Comprehension
Sentence Structure
Uses of Tenses
Active and Passive Voice
Articles
Vocabulary Skills
Logical and Analytical Reasoning
Directions
Distances
Statement and Conclusions
Statement and Assumptions
Critical reasoning
What Makes Afa #1 in NIFT / NID ENTERANCE.
Highest Selection in NIFT / NID / PEARL / OTHERS in Sucessive 12 Years.
Afa Soars to new Heights in NIFT'2022, 656 Selection in NIFT'2022.
Afa Team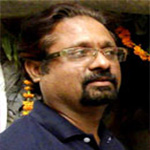 Indrajeet Singh has worked as a design educator, ex faculty of nift / pearl / coa, team member, project head and has an experience of 25 years for the design aspirants. He has also worked with several advertising agencies.. He is also renowned for photography, visualiser ...
Mr. Indrajeet Singh
Professor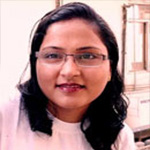 Excellence and mastered in the stream of art and design. Been working from last 15 years in the same field, made her developed a good sense of practical field, aura of the current trend forecasting, solving face to face students queries and making them stand in the crowd in a unique way through her excellent and fair guidance at AFA. Best known among students for her knowledge and experience about design and architecture colleges. She also given her 100 per cent assurance towards work and responsibilities.
Mrs. Rekha Chaudhary
Teacher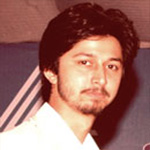 Talented and energetic faculty of AFA with creative mind and experience in the field of architecture . Graduated from school of planning and architecture, has worked with institute of town planners India and knowledge works. Been in the same field for 3 years and has remarked himself with lots of knowledge, intellect and brain power . Better experience about the heads and tails of the planning and architecture.
Mr. Amaan Hasan
Teacher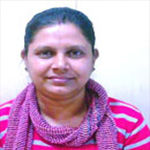 Graduated from College of Art, Delhi and has an experience of 08 years. She has been a blessing for the institute in providing the best possible to the students like the other faculties at AFA. Being from an art and design background she made us proud in end number of times with solving students queries at work. She is also best known for her creativity and innovative works . Been appreciated among students for her personal care, kindness and work assurance.
Mrs. Hema Yadav
Professor