Chitkara School of Art and Design
Chitkara School of Art and Design - Chitkara University
---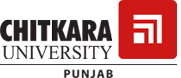 As the real and digital world becomes more image-conscious and image-laden, the demand for design is increasing rapidly. Millions of rupees worth of graphic design work like illustration and advertising are published or sold each day. The future is bright for visual graphic design majors – and Chitkara University is initiating one of the finest graphic design programs in the country.
Graphic Design programs at Chitkara School of Art and Design is geared to produce illustrators, advertisers, and graphic designers who will be widely recognized, actively sought, and well paid for their command of these highly coveted skills and talents.
By choosing to begin their degree at Chitkara University, students get a competitive edge by spending two years on our state-of-the-art campus, working closely with full-time faculty and industry professionals – an experience that will be similar to the best design schools of the world. After the end of year 2, students will have the option of doing their internships with best of industry partners across the country towards their credits for the 3rd and 4th year.
Our BFA programs in Graphic Design will encompass four levels of training: hands, eyes, mind and social conscience. This comprehensive approach will pay great dividends in the job market, where Chitkara graduates will distinguish themselves by earning top design jobs – including managerial positions at creative agencies throughout the country.
Our career-focused degree programs in Art and Design are the ideal blend of theoretical learning and practical experience, taught by professors who have active industry connections and outstanding academic credentials. Our programs will offer campus placements and internships – meaning you'll earn money and get valuable on the- job experience before you graduate. Add in small class sizes and industry guided, job-relevant curriculum, and your Chitkara degree will give you a definite advantage in today's competitive world.
Our Design programs will lead students to one of the three major creative careers:
Illustration – the art of picture-making for the purpose of communicating ideas and information Graphic Design – total information design, where pictures as well as words are created and designed to convey messages Advertising Art Direction – a more focused combination of visual and verbal information designed to create a message that moves consumers to action.
FOR THE ACADEMIC YEAR 2016-17, WE ARE OFFERING THE FOLLOWING PROGRAMS:
4 Year BFA Programs in
3 Year B.Sc. Programs in

Applied Art
Graphics Design with New Media

Animation
Game Design
Interior Design
Why Join BFA
A Bachelor of Fine Arts (BFA) is a calibrated undergraduate degree for students seeking a professional education in the visual Arts and design. It is considered to be the most prestigious bachelor's degree that one can receive in the visual arts. This Course will provide you an all-around Art & design education to become a versatile Artist and communication design professional.
An undergraduate professional program that encompasses around art and design with multilateral opportunities in the corporate world. The program can be pursued after 10+2 or equivalent exams to create your career in the world of art. A one of its kind program, BFA, eventually lands the quality candidates with big fame and bigger finances. As compared to other fields & fraternities of professional education, BFA's stand better scope of growth and that too from the commencement of the career journey. The simplest reason for that is the lack of such professional education in our country. Besides, the less number of colleges offering BFA programs, the average student strength confines to 25 to 30 per class.
The Bachelor of Fine Arts program focuses on design studies including critical thinking, communication design methodology, project development, community engagement and media management. Students will learn to translate concepts into individual expression by using drawing, color, form, space, structure, and composition and by developing a comprehensive understanding of multiple tools and media. Above all a BFA graduate learns to cultivate the intellectual, conceptual, and critical skills required in communication design industry. Quality BFA graduates are high in demand for the emerging advertising and brand management agencies. There is a great dearth of such professionals in new media based interactive design setups and allied services i.e Animation studios, Multimedia program development companies & Game interface design industry etc.
---
4-YEAR BFA in APPLIED ART
---
The 4-year BFA in Applied Art is a specialised program in Design, where the student can specialise in Graphic Design and Advertising enabling him to acquire the skills and techniques necessary to pursue a fulfilling career in the various areas of the advertising, print and graphic design industry.
Program overview
Applied Art Professionals are visual problem-solvers who use a wide variety of concepts and media to inform, direct, promote, entertain, engage, and educate specific audiences. The applied art program prepares students to integrate design principles, methods, concepts, images, words, and ideas to creatively convey visual messages meant to produce specific responses from diverse audiences.
As an Applied Art student, you will begin your studies with courses in design, composition, color theory, and art history. Subsequent study focuses on theories and practices of visual communication, including the selection and use of type and image; professional presentations; concept development; computer applications for professional production; and content preparation for print, multimedia and the web. We supplement our curriculum with a range of general education courses that foster critical thinking. Small classes ensure personalised attention.
---
4-YEAR BFA IN GRAPHICS DESIGN WITH NEW MEDIA
---
Today's digital environment has created exciting career opportunities in visual design, entertainment, gaming and technology industries.
Our 4-Year BFA in Applied Art with specialisation in New Media Design is at the intersection of visual communication, design strategy, technology sciences & user interface design. With emerging technologies & new digital devices stretching the forms of interactivity, new media designers are poised to be the key creative force in the next generation of digital media.
The 4-Year BFA in Applied Art with specialisation in New Media Design focuses on training students to develop exceptional skills to craft high-quality, professional interface designs.
Program overview
Grounded in the human centered design principles, this program leverages an approach that optimizes the interface around how users can, want, or may use the product, rather than forcing the users to change their behavior to accommodate the product. The program will focus on the tools, standards, frameworks and methods of creating, documenting, and communicating interface design across web, mobile, and large screen platforms. The studios will be more applied, where the students will learn through applying the concepts in concrete design situations under the mentorship of studio leads. To assist students in creating the trend setting interactive solutions the New Media Design Workshop offers unique hands-on experience with wearable, mobile, large format touchscreens, tangible computing and 3D printing.
---
3-YEAR B.Sc. ANIMATION
---
As a field of study, Animation allows you to partake in mediums like Graphic Design, Web Design, Game Design, 3D Animation and Visual Effects. It's reach also extends up to far reaching domains such as 3D Printing, Augmented Reality, Virtual Reality, and 3D Projection Mapping.
3-Year B.Sc in Animation is a specialized program in Animation to create characters and tell their stories, as well as design, paint, model, texture, animate, light, composite, and even edit films.
Program overview
You would learn the software and concepts that lead to a great graphic design. Alongside you learn to improve your sketching skills so that you can put your ideas onto paper before getting them to animate on screens. We focus on teaching students how to combine essential technical skills with conceptually original ideas that affect the audience emotionally, visually, and intellectually.
Herein, you would also learn composting and green screening. You would learn how to prepare a storyboard and its relevant implementation. This would lead you to the field of Motion Graphics and 2D Animation. Once you develop a sense of story telling through colors and characters you are now ready to plunge into a new dimension.
In the last phase of this program you shall be developing your portfolio showreel to showcase your work to the world. The mix of this above described talent is what animation studios of the world look forward to.
---
3-YEAR B.Sc. GAME DESIGN
---
Games are by far the highest-grossing field of the entertainment industry today. People play video games on their computers, consoles, mobile devices and anywhere we can imagine. Be part of this rapidly evolving world, learn to develop complex story-lines,characters and create sophisticated gameplay with stunning graphics. With a Chitkara B.Sc. in Animation with specialsation in Game Design, we can guarantee all of this.
Program overview
The gaming experience stretches across many platforms. People play video games on their computers, consoles, mobile devices, and soon it will be commonplace to play on clothes, buildings and anywhere we can imagine. Designing the game is far more challenging than playing it.
What you'll learn in this games design course
Challenge your mind and learn to hone the skills you need to create clever, compelling games. You'll learn to think up stories and concepts, and you'll play and analyse games to work out what makes them successful. Then, follow game development from concept to publishing, sketching out your own plotlines, gameplay and character arcs – and stitching them together to create whole new worlds. You will come out of this degree with a wellrounded understanding of game design and development. In addition to learning the design, animation and programming software used in the industry today, you'll develop your creative storytelling and illustration skills.
---
3-YEAR B.Sc. Interior Design
---
The course in Interior Design is geared up to meet expectations of the industry, to create a symbiosis between theoretical, technical, artistic and creative areas. In practice, interior architects execute projects for myriad activities, including business and commercial establishments, places for recreation and hospitality, health and cultural institutions and residential interiors.
Program Objectives
To sensitize the students about the impact of interior design on built environment by developing analytical skills to add excellency & efficiency for well-being of the occupants
To equip students with basics of technical, creative, theoretical and management skills for successful creation and execution of interior design scheme
To create an understanding of multidisciplinary approach with illustrators, sculptors, fashion designers and architects to add creative insight and depth into the design process
To develop skills for creative solutions for assimilation of diverse elements of interior such as furniture, lighting, upholstery, color scheme, etc. along with building services.
To support the development of research, thinking and communication processes to enable to envisage creative and innovative solutions to design problems.
---
Counseling Process
Candidate would have to personally appear before the Counseling committee on the date and time specified . Failure to do so will result in rejection of the application. The candidates would be required to be in possession of the documents as given in the IMPORTANT INSTRUCTIONS at the time of counseling. Please note that for the programs with no entrance tests the seats will be allocated based on the marks obtained by the candidate in the qualifying examination specified under eligibility criteria and entrance test/interview conducted by Chitkara University (where ever applicable).
Chitkara University, Punjab
( Punjab Campus)
Chandigarh-Patiala National Highway (NH-64)
Punjab- 140 401, India.
For more information give a miss call on : 1800 267 1999
Admission Helpline : +91 9501105714, +91 9501105715
Delhi & NCR please call on : +91 9599368734
North East Helpline : +91 9810355724
Website : www.chitkara.edu.in