NID Mains Test

CLASSROOM COACHING
AFA is commencing special 15 Days NID MAINS TEST Classroom Sessions after the declaration of results of the first phase of NID. The course is designed exclusively for students to learn all the subjects in detail and qualify the entrance. The Course is conducted by the most experience group of faculties in the field of Art and Design. Our team has trained over thousands of students , which are already a part of NID, NIFT, UCEED, CEED !
NID Mains Test Classroom Coaching with AFA is a journey of excellence towards achieving your dream design career. Our comprehensive study materials, interactive sessions, mock test sessions, and mock NID Studio Test will equip with all the essentials required to crack the NID Entrance Exam.
The NID or National Institute of Design conducts the DAT or the Design Aptitude Test. NID or National Institute of Design is a design school in Ahmedabad (Main Campus established in 1961) and campuses in Gandhinagar as well as Bengaluru. They have various different branches in Haryana, AndhraPradesh, Assam and Madhya Pradesh.
Enroll for 15 Days NID MAINS TEST Classroom classes, Register now.
NID Entrance Test
The NID Entrance exam DAT or the Design Aptitude Test is a National Level Test, comprises 2 levels – NID DAT (Prelims) and NID DAT (Mains) – The Prelims is a written test with both objective and subjective type questions. While, the NID DAT (Mains) comprises of Studio Test and Interview round.
How to get admission into NID?
For admissions in NID let us see the eligibility first. To apply for the NID entrance Exam you should have passed 12th Standard or equivalent from any university or institute recognized by the law of India.
What is NID Mains Test ?
Candidate shortlisted after the DAT Prelims are invited to appear for Stage 2 DAT Mains exam at Ahmadabad or at all campuses of NID viz Ahmadabad, Bangaluru, Gandhinagar, Haryana, Andhra Pradesh and Madhya Pradesh. NID Mains includes a series of test .
A] DOODLE EXERCISE
B] 3D MODEL MAKING
C] CLAY MODELING
D] WIRE MOULDING
E] THEMATIC / PSYCHOMETRIC TEST
F] AUDIO/ VISUAL TEST
G] INTERVIEW AND PORTFOLIO
Features of the NID Course
IF YOU WANT TO CONFIRM THE BEST SCORE IN NID MAINS TEST THEN DO NOT MISS THE AFA'S CLASSROOM SESSIONS AS :
Will cover all types of tests in the classroom with Innovative Themes and Aesthetic Appeal
Will provide Similar 3D Model preparation on the pattern of NID
Will provide practice exercises for all types test .
Will provide question bank for all aspects of tests with references and ideas of solution of last 10 years.
Will provide free material kit which includes variety of material which are similar to actual Mains Test. A candidate need not waste time and energy in searching different materials. Free material kit will include different types of paper, cardboard, clay, different types of wires etc.
Classes will include Creative and Clever Manipulation of the given material
Will provide practice for variety of Audio- Visual rounds separately.
Sessions designed and delivered by NID, NIFT and other top art and fashion institutes Alumni
Special Classes and Mock interviews with the type of questions actually asked in NID.
Special attention and guidance for portfolio review.
NID Sample Videos:
NID Syllabus
The NID DAT 2021 Syllabus – Prelims
Innovation in Design
Theme Development
Exercises on Imagination
Graphics and Pictograms
Principles of composition
Design Theory
Optical Illusion
Form and Function
Inspiration and Design Development
Natural and Geometrical Form
Colour, pattern and texture
Drawing Fundamentals
Lateral Thinking
Design Awareness
Creative Thinking and writing
Ornaments and Motif
Imagination and doodling
Understanding light and shade
Elements and principles of design
Colour psychology and optical illusion
3D Visualization
Optical Illusion
Outline for beginners
Memory Drawing
Innovation and Creation
Mood, theme and colour inter-relationship
Picture analysis
Visual Logic
Colour terminology
Presentation techniques
Use of measurements, scale and proportion
Usage of colour in composition
Natural and geometrical form
Expression and emotion
Developing themes and color associations
Foreshortening and perspective
The NID DAT 2021 Syllabus – Mains
Model Making
Audio-Visual Exercises
Evolving ideas
Material Manipulation
Importance of body language
Creative thinking
Doodling
How to prepare for the NID Entrance Exam with AFA India?
Here are some useful tips NID Mains Test Classroom Coaching are:
Firstly, be abreast with the updated NID Entrance Exam Syllabus thoroughly.
Secondly, get a clear picture of the NID Exam Pattern and marking scheme
Make an effective time – table with short-term and long-term targets so as to keep up with your schedule and preparation.
Finally, and most importantly, solve previous years question papers, sample papers, and mock tests
What does NID DAT Mains Test comprise of?
NID DAT Mains for B.Des:
The NID DAT Mains Test for B.Des Comprise of tests in multiple formats such in a studio set up including drawing/sketching, group discussions, hands-on model making or presentations
NID DAT Mains for M.Des:
Studio Test: The studio test will comprise of different sections wherein questions of different formats such as hands on drawing/sketching, hands-on model making, group discussions, etc will be asked.
Personal Interview: This will involve questions related to current affairs, your career orientation, related skills and abilities, etc.
Why Should I join NID Mains Test Classroom Coaching with Academy of Fashion & Art?
If you want the answer to this question, you have to go through a sample question paper. Therefore, you will get to understand the type and pattern of the NID entrance exam. Get to know the topics and subjects that you have to prepare to crack the NID Mains Examination.
Let us discuss the reasons for you to join NID Classroom Coaching:
Firstly, let us assume that you are appearing for the exam as a first-timer, therefore, you need professional guidance so that you do not waste precious time in planning. Our course structure is planned and is student-specific to match your skill sets so that you can immediately get down with your preparation.
You will also get regular guidance online & offline so that if you have any queries, they will be solved immediately. Hence, you do not have to go around looking for solutions. Moreover, the solution will be coming from an experienced and professional mentor.
Above all, with our NID Mains Test Classroom Coaching, you will also get comprehensive and easy-to-understand study materials accompanied by test papers and solved illustrations.
Moreover, you will also get interactive sessions where you will also come across queries of other students and the solutions to those queries. This will prove beneficial for you too.
In conclusion, the most important part, you will get hands-on training with Mock Test Papers and Mock Interview sessions. Therefore, the Mock Test will be to simulate the real test scenario which will help you to cope with the real situation and handle the pressure. This also will create a healthy competitive environment among the other aspirants, and you will find a lot of places for improvement for yourself as well.
Frequently asked Questions related to NID
Q1. What is the Selection procedure for admission into NID?
Answer: The selection procedure for admissions to the Bachelor of Design program consists of two stages – Prelims and Mains. Only those candidates who qualify the prelims can appear for the mains.
Q2. What is the procedure for online application for NID Entrance Exam?
Answer: The candidate has to fill the online application form available on the official website. The fee also has to be paid in the online mode via credit/debit card, and a print out should be taken for future reference.
Q3. How will I get the admit card for the NID DAT Entrance exam?
Answer: After the online application process and confirmation, the candidate will have to check for the date of admit card publication through the official portal. The candidate will have to download the NID DAT admit card and also collect a print out of the same.
Q4. Why is the NID DAT Mains conducted? How important is it?
Answer: After the candidates qualify for the second stage of NID DAT, considering their scores in NID DAT Prelims, they have to appear for NID DAT Mains. It is very important because the final list will be generated on the basis of the sum total of the weighted score secured by the candidate in each stage.
Q5. Can I choose the exam center for the NID entrance exam?
Answer: The candidates can put in their preference of exam center while submitting the online application. However, the institute reserves the right to make the final decision on the examination center. The addition or remove and the final allocation of the test center depend on the number of applicants appearing of the NID DAT.
Q6. Can an aspirant appear for the NID DAT more than once?
Answer: Yes, a candidate can appear for the NID DAT as many times provided the candidate fulfills the eligibility criteria.
Q7. Does the NID offer 4Years B.Des course in Interior designing?
Answer: NID offers 4 Years B.Des course in Furniture and Interior Design stream. But, it does not have a separate course for Interior Design.
Q8. What is the Foundation program for B.Des?
Answer: All the candidates admitted to the B.Des program, will have to go through a mandatory foundation course, which is a 1 Year course. After that, on the basis of their performance and availability of seats in the desired discipline, the particular program is allocated to them at the end of the foundation course.
Q9. How will I be evaluated in the NID DAT Mains?
Answer: The Candidate will be evaluated on the basis of their creativity, visualization, aptitude for design along with material handling skills.
Q10. What is the NID admissions cut-off?
Answer: The Cut-off varies with various factors. In the previous years the cut-off for NID Ahmadabad was 96.84. But, the cut-off is dependent on various factors like the number of applicants appeared for the exam, the availability of seats, etc.
Q11. Is NID Entrance Exam tough?
Answer: The NID Entrance evaluates candidates on the basis of their knowledge, creativity, and design aptitude. As this is a national-level examination, considering the competition for seats, it is quite a tough exam. According to industry experts NID DAT is considered to be among the most challenging design entrance exams conducted in the country.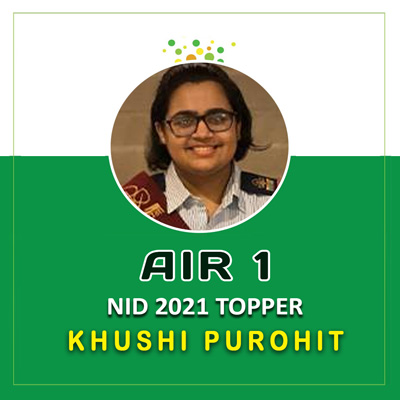 AFA SOARS TO NEW HEIGHTS IN NID 2019
WHERE NO OTHER TRAINING INSTITUTE HAS GONE BEFORE...

80%

Students got selected finally in NID who attended AFA Mains Test Workshop Which is
HIGHEST SELECTION RATIO IN INDIA
What Makes Afa #1 in NIFT / NID ENTERANCE.
Highest Selection in NIFT / NID / PEARL / OTHERS in Sucessive 12 Years.
Afa Soars to new Heights in NIFT'2022, 656 Selection in NIFT'2022.