FAMOUS INDIAN FASHION DESIGNERS
JATIN KOCHHAR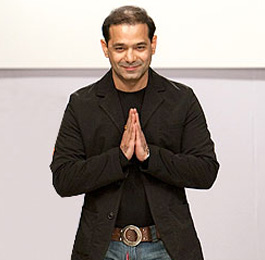 A designer by profession, Jatin Kochhar has not limited his creative skills to just designing clothes. He is one of the versatile persons in the fashion industry, who uses his creativity to maximum extent. Jatin is involved in a lot of activities apart from designing, like anchoring, writing, etc. In apparel designing, his technique of blending conventional classic in contemporary chic style is adored by everyone. An additional blessing of creativity from heaven, Jatin designs clothes which are simple and class. His designs are such that they can be worn by people at large.
A long list of clientele is a proof to this. Jatin Kochhar was the first designer to be selected by the Australian fashion framework to showcase his collection, along with the Australian team, on the Out of the Australia World Tour 1993. With time, he started opening his own stores. Presently, he has three stores in Delhi and one each in Mumbai, Goa and Nagpur. Being aware of the urban lifestyle, Jatin Kochhar designs his clothes in simple and practical terms, in a way that they can be worn on both formal and casual occasions, just by changing the accessories. Jatin works on two different lines.
One of them is the prêt line which caters to fashion conscious men and women. The other is evening wear which offers exclusive clothes, from traditional wear to fusion and western formal attires. Jatin Kochhar also has several television serials, such as Khoobsoorat, Fashion Square and The India Show to his credit, as an anchor and a guest anchor. Along with the glitz world, literary also takes a balanced stand. He writes for a number of fashion and lifestyle newspapers and magazines.
Top Indian Fahion Designers