FAMOUS INDIAN FASHION DESIGNERS
JJ VALAYA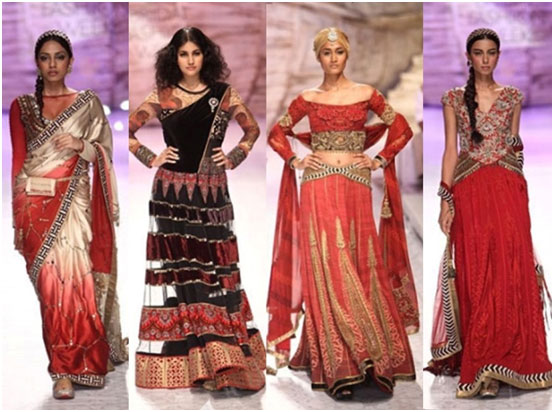 J J Valaya (Jagsharan Jit Singh Ahluwalia, the name was shortened to J J Valaya to create the Valaya fashion label) was born on 8 October 1967 in the state of Rajasthan in India but spent most of his childhood travelling to different parts of the country due to his father's various postings in the Indian Army. He studied commerce at college and planned to be a chartered accountant eventually. But his passion for beautiful things and fixation for the rich Indian art and culture took him to the National Institute of Fashion Technology, New Delhi (NIFT) where he graduated in fashion design in 1991.
JJ Valaya is some times referred to as the 'Monarch of Indian Fashion'. His splendid collection of hand embroideries and exquisite bridal trousseau are a rage in the fashion world globally. His effort to create timeless attires, with dollops of contemporary classicism clinging onto it, has a fresh look and looks distinct from all the other designer wears. He is also regarded as the trend setter of the fashion fraternity. Though his roots are dipped to the past, he infuses with it the spanking new styles. His label that was established almost three decades earlier still has strong grip of the market and excels in wedding attires and evening wears, for both men and women. He was the first designer to host a solo fashion show in India. He was also the first Indian designer to showcase his collection along with prominent International Designer Todd Oldham. Hand in hand with brother, TJ Singh's entrepreneurial abilities, he launched his brand "JJ Valaya" in 1991.
His brand consisted of couture line of attire, which gained great accolades from the fashion fraternity. This was followed by "Valaya Home" in 1996 and a pret label "Studio Valaya" in 1999.House of Valaya is one of India's most respected fashion houses. It not only caters to fashion lovers, but also provides a whole lot of luxury products, such as furniture, tapestries, stunning fabrics and home furnishings, haute couture and footwear, apart from cuisine. JJ Valaya has several successful solo fashion shows in his kitty, including the ones in New York, London, Paris, Dubai, Singapore, Hong Kong and Johannesburg as well as in most major Indian cities. He also made an entry into Bollywood, with the film Yaadien.
Top Indian Fahion Designers