FAMOUS INDIAN FASHION DESIGNERS
SHANTANU MEHRA AND NIKHIL MEHRA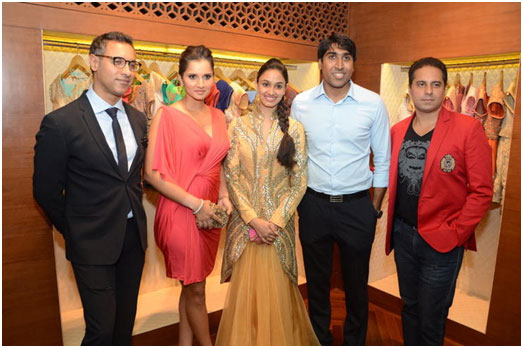 Shantanu and Nikil with their latest collectionCreative heart and entrepreneurial mind - the winning combination has got the brother duo, Shantanu Mehra and Nikhil Mehra, a place in the global forum. They launched their label 'Shantanu and Nikhil' in the year 1999, which caters to the young, trendy, stylish and vivacious populace of the world.
The brand targets its audience who are extrovert and effervescent, with a sense of chic and classiness. The brand aims to bring out stylish line of clothes for work place, going with the recent flow of power dressing at one's vocational front. The urban youth desires to be contemporary, yet conservative and the brand comes out to be a clear winner in this segment.Within a short span of time, Shatanu & Nikhil have been quite effective in coming out with clothes which not only have a national but also an international appeal.
The clientele list of the designer duo has eminent sports personalities like Zaheer Khan, Irfan Pathan & Leander Peas. In Bollywood stars like Mr. Amitabh Bachchan, Hrithik Roshan, Saif Ali Khan, Shahrukh Khan, Dia Mirza, Neha Dhupia, A.R.Rehman, Kunal Kapoor, Shah, Shilpa Shetty, Sushmita Sen and Bipasha Basu adore the brand. They have two signature stores in the prime locations of New Delhi, besides having a strong presence in couture stores nationally and internationally. Internationally, the label is available in Dubai, Kuwait, Tokyo, Switzerland, Birmingham, London, Jeddah, New York and Vancouver.
Top Indian Fahion Designers