CEED - Common Entrance Examination for Design
CEED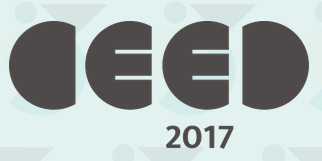 Common Entrance Examination for Design (CEED) is an all India examination conducted by the Indian Institute of Technology Bombay (IIT Bombay), on behalf of the Ministry of Human Resources Development, Government of India.
The objective of CEED is to assess the candidate's aptitude for design, involving visual perception ability, drawing skills, logical reasoning, creativity, and communication skills.
CEED is a qualifying examination for the following postgraduate programmes in design:
IMPORTANT DATES
| | |
| --- | --- |
| Submission of online applications with regular fee | October 17-November 11, 2016 |
| Submission of online applications with late fee | November 12-18,2016 |
| Admit card available for downloading from | December 26, 2016 |
| Last date for rectification of discrepancies in the admit card | January 9, 2017 |
| Date of CEED 2017 examination | January 22, 2017 |
| Release of draft answer key for Part A | January 28, 2017 |
| Last date for sending comments about draft answer key for Part A | January 31, 2017 |
| Release of final answer key for Part A | February 2, 2017 |
| Declaration of result | March 10, 2017 |
| Score cards available for downloading | March 15, 2017 |
1. Eligibility for CEED 2017
Candidates must either have completed or be expecting to complete any of the following, by July 2017:
i. Bachelor's degree in Engineering/Architecture/Design/Interior Design or equivalent (4 years programme after 10+2)
ii. Professional Diploma in Design (NID/CEPT or equivalent of 4 years programme after 10+2)
iii. B.F.A. (4 year professional programme, after 10+2)
iv. G.D. Art (5 year programme after 10th) with one year post qualification professional experience
v. Master's degree in Arts/ Science/ Computer Applications (2 year programme after 10+2+3)
NOTE: Candidates with 3 years Bachelors degree are not eligible. The candidate is responsible for proving the eligibility while applying for CEED.
2. Photograph and Signature Requirements
3. The CEED 2017 Online Applicant Interface requires that copies of your photograph and signature be uploaded as an electronic file at the time of submitting your application. Uploading photographs or signatures that do not meet specifications can result in disqualification of the application without any refund of the fee.
Photograph Requirements : Please pay attention to upload good quality photographs. Poor quality of photographs submitted will lead to rejection of your CEED application, without any refund of the application fees. The Admitcard and Scorecard will be printed with the photograph you submit.
The photograph must be in colour and must be taken in a professional studio. Photographs taken using a Mobile phone and other self composed portraits are NOT acceptable.
Photograph must be taken in a White or a very light background.
The photograph must have been taken within last 3 months
Face should occupy about 50% of the area in the photograph, and with a full face view looking into the camera directly.
The main features of the face must not be covered by hair of the head, any cloth or any shadow. Forehead, both eyes, nose, cheeks, lip, and chin should be clearly visible.
If you normally wear spectacles, glare on glasses is not acceptable in your photo. Glare can be avoided with a slight downward tilt of the glasses for the photo shoot.
You must not wear spectacles with dark or tinted glasses, only clear glasses are permitted.
Ask your photo studio to provide the image in a jpg format and also on a standard 4.5 cm x 3.5cm print
Maximum pixel resolution for jpg: 640×480 (0.3 Mega pixel) (Ask your studio to reduce it to this resolution if it is higher)
Minimum pixel resolution for jpg: 320 x 240.
The maximum file size is 80 kB (kilo bytes).
For your own benefit it may be prudent not to intentionally change your facial features or hair style as in the photograph until the day of the exam.
Signature Specifications
Please put your signature with a black or dark blue ink on a white paper.
Get the signature digitally photographed/image scanned by a professional photo studio, and get the image cropped by the studio itself.
Only jpg image formats will be accepted.
The maximum pixel resolution for the image is 300 x 800.
The minimum pixel resolution for the image is 150 x 400.
Mobile phone photographs of signatures are not acceptable and can result in disqualification of the application without any refund of the fee.
Documents to be uploaded
Eligibility :
Refer point 1.5 of Information Brochure. You must have one of the documents to prove you are eligible:
Qualifying Year is 2016
or Before

Qualifying Year is 2017,
before July 2017

Qualifying Year is 2017
or Later

Degree Certificate / Provisional Certificate / Course Completion Certificate

Principal Certificate for CEED 2017

Not Eligible
Candidates with G.D. Arts qualification should have 1 year post qualification experience.
Category Proof -
A valid category proof is required to establish your birth category. This is required to qualify for a reduced fee, where applicable. Please do not provide your birth certificate as proof. Only the following are acceptable.
Authorities empowered to issue OBC-NCL/SC/ST Certificates :
District Magistrate/ Additional District Magistrate/ Collector/ Deputy Collector/ Deputy Commissioner/ Additional Deputy Commissioner/ 1st Class Stipendiary Magistrate/ City Magistrate/ Sub-Divisional Magistrate/ Taluk Magistrate/ Executive Magistrate/ Extra Assistant Commissioner.
Chief Presidency Magistrate/ Additional Chief Presidency Magistrate/ Presidency Magistrate
Revenue Officer not below the rank of Tashildar
Sub-Divisional Officer of the area where the Candidate and/or her/his family normally resides
Administrator/ Secretary to Administrator/ Development Officer (Lakshadweep Islands)
Certificate issued by any other official will not be accepted. Refer information brochure for the format of the category certificates
OBC-NCL (Non-Creamy Layer) Note
OBC applicants not having a valid NCL ("non-creamy layer") certificate will be considered along with General category.
The OBC-NCL certificate must have the current year's validity. Since this changes from time to time, certificates obtained for any previous years will not be accepted as valid. The certificate must be dated after 31st March 2016 .
Refer information brochure for the sample certificate format to be submitted by OBC(NCL) candidates.
PwD Category
In order to avail concession under PwD category, the candidates should ensure themselves that they have upload recently obtained proper PwD certificate, which shall be required to be submitted to the admitting institution at the time of admission. The onus of verifying PwD certificate lies with the admitting institute. The CEED committee will not be responsible for any incorrect declaration of applicant's PwD status.
Refer information brochure for the sample certificate format to be submitted by PwD candidates.
Note: The documents submitted after dead lines (as mentioned above) will not be considered.:
EXAMINATION
The examination will be conducted in two parts, A and B on the same day. All candidates must answer both the parts.
CEED 2017 EXAMINATION CITIES/ TOWNS: Ahmedabad, Bengaluru, Bhopal, Chandigarh, Chennai, Delhi, Guwahati, Hyderabad, Kanpur, Kolkata, Mumbai, Nagpur, Pune and Thiruvananthapuram.
POST EXAMINATION
Qualifying in CEED does not guarantee admission in any programme. A candidate must apply to respective institutes for admission and fulfill other requirements such as tests and interviews of the respective design departments for admission.
Admitting Institute will also verify the eligibility, the category certificate and other documents along with the CEED score.
The CEED 2016 score is valid for a period of one year from the date of declaration of the results.
For further information:
Chairperson
GATE-JAM-CEED 2017
Indian Institute of Technology Bombay
Powai, Mumbai 400076
TOLL FREE NUMBER 1800-2660-645
(on all days except National Holidays from 09:00 hrs –18:00 hrs)
PHONE : 9769917069, 9769957068, 022-2576 7068
(Mon to Fri 09:30 – 17:30 hrs)
E-MAIL : ceedoffice[at]iitb.ac.in
WEBSITE www.gate.iitb.ac.in/ceed2017