FAMOUS INTERNATIONAL FASHION DESIGNERS
DONATELLA VERSACE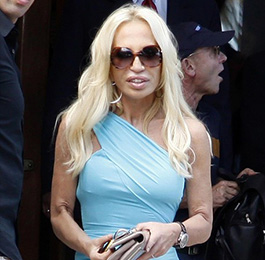 Donatella Versace (born 2 May 1955) is an Italian fashion designer and current Vice President of the Versace Group, as well as its chief designer. She owns 20% of its entire stock market assets. During the 1980s, Donatella's brother, Gianni Versace launched a perfume dedicated to her, Blonde, and gave her his own diffusion label,Versus. Versace took over the label's design after her brother's murder and years of feeling like Gianni's muse.
In the mid-1970s, Donatella followed her older brother, Giovanni ("Gianni"), to pursue knitwear design in Florence, Italy. She had planned to work for her brother in PR, but was more valuable to Gianni as a "muse and critic", according to her during an interview with Vogue. Through her closeness to her brother's enterprises, Donatella plunged into the fashion world. A decade later, during the 1980s, Gianni launched a perfume dedicated to her, Blonde, and gave her her own diffusion label, Versus, which remains a well-known Versace line.
In the list of international fashion designers, one of the most shinning stars is our world-renowned leading women fashion designer Donatella Versace. This talented designer from the very beginning was fascinated by fashion. She was born in Italy in 1955. After completing her graduation from Florence University, she got associated with her brother Gianni and used her innovativeness in taking Versace label to heights.
Top International Fahion Designers