FAMOUS INTERNATIONAL FASHION DESIGNERS
RALPH LAUREN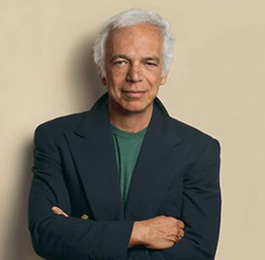 Ralph Lauren, pronounced LAU-ren (born Ralph Lifshitz October 14, 1939) is an American fashion designer, philanthropist, and business executive, best known for theRalph Lauren Corporation clothing company, a global multi-billion-dollar enterprise. He has also become well known for his collection of rare automobiles, some of which have been displayed in museum exhibits.
In 2010, Lauren was declared Chevalier de la Legion d'honneur by French President Nicolas Sarkozy. As of September 2012, Forbes estimates his wealth at $7 billion, which makes Ralph Lauren the 191st richest person in the world.
Since its inception in 1968, Ralph Lauren has become a powerful global empire that has put its stamp on everything from tuxedos to tennis skirts. The designer expanded to encompass womenswear (1971), his signature polo shirts (1972), fragrance (1978), home furnishings (1983), sportswear (1993), paint (1995), denim (1996), and even a restaurant, in Chicago in 1999. Lauren has shown range and innovation each season, from the cowboy-inspired looks of the seventies to the Santa Fe prints of the eighties to the more recent high-fashion twenties safari looks of the 2000s. Today, the iconic polo emblem adorns everything from Pink Pony tees benefiting cancer research to tiny plaid high-tops for tykes and miniature polos for pets. The Ralph lifestyle has shown staggering staying power, thanks to loyal fans who ride horses, get chauffeured in Town Cars, and everything in between.
Top International Fahion Designers