FAMOUS INTERNATIONAL FASHION DESIGNERS
VALENTINO GARAVANI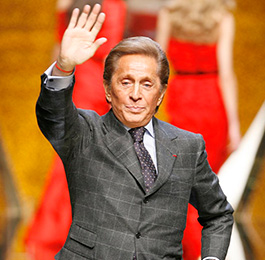 Valentino Clemente Ludovico Garavani (born 11 May 1932 in Voghera, Italy), best known as Valentino, is an Italian fashion designer and founder of the Valentino SpA brand and company. His main lines include Valentino, Valentino Garavani, Valentino Roma and R.E.D. Valentino.
He studied French and fashion design at the Academia de'll Arte in Milan (1948), in preparation for his move to Paris. Valentino's signature style is "opulence" He is known for his meticulous detailing and magnificent embroidery. The perfection of luxury in Valentino is never ostentatious, but rather a very strong yet discreet appeal of shades stolen from precious stones, from the impalpable delicateness of powder and milk. Absolutely unique, incredibly elegant Valentino style contain all the best italian fashion design and style.
On 6 July 2006, France's President Chirac awarded Valentino the Chevalier de la Légion d'honneur. "I am very honored," said Valentino, who has received awards from many countries including Italy and the United States.
During the festivities for the 45th year of Valentino's career, the Mayor of Rome, Walter Veltroni, announced that the site of the Valentino Museum would be a building in via San Teodoro in Rome, between the Palatine Hill and the Bocca della Verità (mouth of truth). 24 January 2008, Valentino was presented with the Medal of the City of Paris for his services to fashion in the city where he was educated.
On 7 September 2011, Valentino was presented with the sixth annual Couture Council Award for Artistry of Fashion from the Museum at the Fashion Institute of Technology at a benefit luncheon held at the David H. Koch Theater, Lincoln Center in New York City.
Top International Fahion Designers