FAMOUS INTERNATIONAL FASHION DESIGNERS
THOMAS JACOB HILFIGER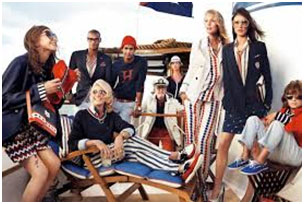 Thomas Jacob Hilfiger (born March 24, 1951) is an American fashion designer and founder of the lifestyle brand Tommy Hilfiger Corporation. Hilfiger was born in Elmira, New York. The second of nine children of a jeweler and a nurse, he is of German-Swiss and Irish descent, and was raised Catholic.Hilfiger also claims direct descent from the Scottish poet Robert Burns. His parents wanted him to get a college education and pursue a traditional career.He attended the Elmira Free Academy for high school. He also attended GST BOCES Bush Campus in Elmira for machine shop trades. Rather than furthering his education, he started to work in retail at the age of 18. Hilfiger would go to New York City to buy jeans and bell-bottom pants, which he customized and resold at Brown's, a local downtown Elmira store.
He later opened his own store, named The People's Place, around the block in downtown Elmira. Over the years, a number of stores closed in downtown Elmira as shopping traffic shifted to the new Arnot Mall in Horseheads, New York. After seven years, The People's Place went bankrupt, when Hilfiger was 25. This is when he enrolled to study commerce. The site of the original store has since been demolished to make room for First Arena, home of the Elmira Jackals hockey team.
In 1984, having moved to New York City, Hilfiger launched his first collection under his own name. With his distinctive red, white and blue logo and collegiate/Ivy League influences, Hilfiger presented a preppy vision of Americana which, coupled with his looser sportswear aesthetic, found a surprising new audience in the burgeoning hip-hop scene of the early '90s.
Top International Fahion Designers