FAMOUS INTERNATIONAL FASHION DESIGNERS
JEAN PAUL GAULTIER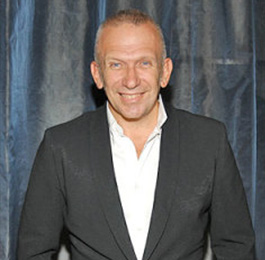 Jean Paul Gaultier born 24 April 1952 in Arcueil, Val-de-Marne, France) is a French Haute Couture and Pret-a-Porter fashion designer. Gaultier was the creative director of Hermès from 2003 to 2010. In the past, he has hosted the television series Eurotrash.
Gaultier never received formal training as a designer. Instead, he started sending sketches to famous couture stylists at an early age. Pierre Cardin was impressed by his talent and hired him as an assistant in 1970. Afterwards he worked with Jacques Esterel in 1971 and Jean Patou later that year, then returning to manage the Pierre Cardin boutique in Manila for a year in 1974.
After working for Pierre Cardin and Jean Patou, Jean Paul Gaultier set out on his own to create a womenswear line. The label's gender-bending, deconstructed aesthetic, and risque collaborations—like Madonna's infamous cone-shaped bra for the 1990 Blonde Ambition tour—gave the designer his "enfant terrible" reputation. He's also known as one of the industry's master tailors, with a knack for tuxes, trenches, and leather, and a tendency to embrace equestrian, military, and royal tropes—all with a sense of fun. In addition to the clothes—now licensed by Aeffe and including menswear—Gaultier created a successful fragrance line, packaged in his signature torso-shaped bottles. His first couture collection didn't come until 1997, but has been critically acclaimed since its beginnings. In 1999, Hermès bought 35 percent of the Jean Paul Gaultier company, which gave the brand capital to open up stores in East Asia. It also opened up another window for the designer; in 2004, Hermès hired him as head womenswear designer for the label.
Top International Fahion Designers