FAMOUS INTERNATIONAL FASHION DESIGNERS
COCO CHANEL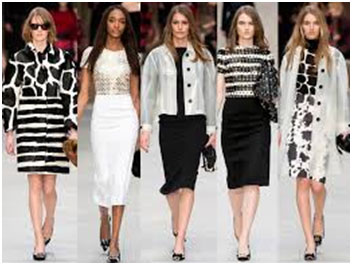 Gabrielle Bonheur Chanel (19 August 1883 – 10 January 1971) was a French fashion designer and founder of the Chanel brand. She is the only fashion designer listed on Time magazine's list of the 100 most influential people of the 20th century. Along with Paul Poiret, Chanel was credited with liberating women from the constraints of the "corseted silhouette" and popularizing the acceptance of a sportive, casual chic as the feminine standard in the post-World War I era. A prolific fashion creator, Chanel's influence extended beyond couture clothing. Her design aesthetic was realized in jewelry, handbags, and fragrance. Her signature scent, Chanel No. 5, has become an iconic product.
Coco Chanel began her career as a fashion designer in 1909. She was one of the most powerful figure in the women's liberation movement after World War I. All over the western world, women were fighting for equality and the right to vote. One means of expressing this new freedom was through appearance and dress.
Curls, frills and flounces were out. Short haircuts, tubular flat-chested silhouettes and simplification in design were in. Coco Chanel maintained that couturiers were not artists, they were furnishers. She believed that women should dress simply and comfortably. The first designer to use wool jersey in women's wear, Chanel revolutionized the textile industry. Chanel died in 1971 at the age of 88, but under the talented designer Philipppe Guiborge, her business continued producing clothes which reflect the classic look of Chanel.
Top International Fahion Designers