FAMOUS INTERNATIONAL FASHION DESIGNERS
GIORGIO ARMANI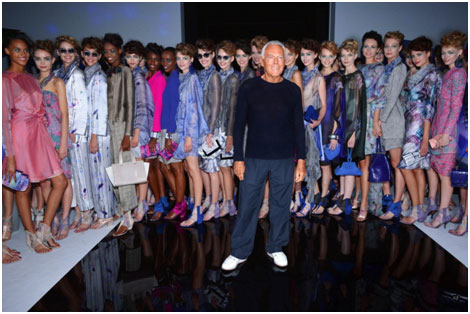 Giorgio Armani (born 11 July 1934) is an Italian fashion designer, particularly noted for his menswear. He is known today for his clean, tailored lines. He formed his company, Armani, in 1975, and by 2001 was acclaimed as the most successful designer to come out of Italy, with an annual turnover of $1.6 billion and a personal fortune of $5.3 billion.
Armani was born in the northern Italian town of Piacenza, where he was raised with older brother Sergio and younger sister Rosanna by his mother Maria Raimondi and father Ugo Armani.
Armani aspired to a career in medicine after reading A. J. Cronin's The Citadel, and enrolled in the Department of Medicine at the University of Milan. In 1953, after three years he broke off his studies, and joined the army, because of his medical studies, he was promoted and transferred to an infirmary in Verona. After experiencing hospital life and occasional evenings at the Arena in Verona, he decided to find a different career.
Top International Fahion Designers