FAMOUS INTERNATIONAL FASHION DESIGNERS
JOHN CHARLES GALLIANO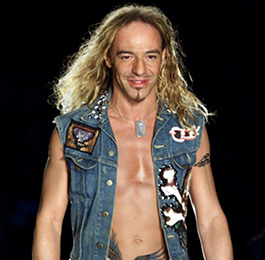 John Charles Galliano CBE, RDI (born 1960) is a Gibraltar-born British fashion designer who was the head designer of French fashion companies Givenchy (July 1995 to October 1996), Christian Dior (October 1996 to March 2011), and his own label John Galliano (1988 to 2011). At present, Galliano is set to take over the creative director of Paris-based fashion house Maison Martin Margiela.
After attending St. Anthony's School and Wilson's Grammar School in London, Galliano went on to study at Saint Martin's School of Art, from which he graduated in 1988 with a first class honours degree in Fashion Design. His first collection was inspired by the French Revolution and entitled Les Incroyables, with a music soundtrack mixed by DJ Jeremy Healy. The collection received positive reviews and was bought in its entirety for resale in the London fashion boutique Browns. Galliano then started his own fashion label alongside long-term collaborators Amanda Harlech, at that time stylist with Harpers and Queen, and Stephen Jones, a milliner.
On the back of this success, Galliano rented studio space in London, but his talent was not matched by a head for business. Moreover, he would take his enjoyment of London's nightlife to extremes. Initially, financial backing came from Johan Brun, and when this agreement came to an end, Danish entrepreneur Peder Bertelsen, owner of firm Aguecheek, who were also backing Katharine Hamnett at the time, took over. This agreement ended in 1988 and Galliano sought the backing of German agent Faycal Amor (owner and designer of fashion label Plein Sud) who directed him to set up his base in Paris. Galliano relocated to Paris in search of financial backing and a strong client base. His first show was in 1989 as part of Paris Fashion Week. By 1990, he was bankrupt and, after his own London-based label failed to re-ignite his fortunes, he moved to Paris. Media fashion celebrity Susannah Constantine has worked for Galliano, and he has also aided the future success of other designers including shoe designer Patrick Cox. In 1991, he collaborated with Kylie Minogue, designing the costumes for her Let's Get to It Tour.
Top International Fahion Designers