FAMOUS INTERNATIONAL FASHION DESIGNERS
GIANNI VERSACE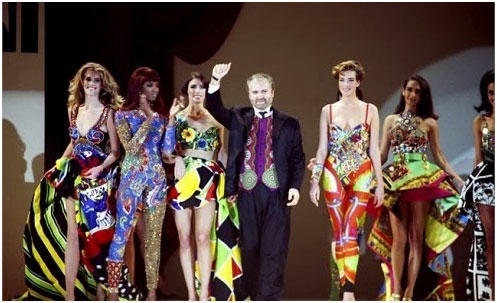 A designer to celebrities and royalty such as Princess Diana, Gianni Versace brought vitality and art to an industry considered out of touch with the street. Born December 2, 1946, in Reggio di Calabria, Italy, Gianni Versace became one of the tops fashion designers of the 1980s and '90s. He launched his first clothing line in Milan, Italy, in 1978. In 1989, Versace debuted his first couture collection. He continued to add his fashion empire, expanding into home furnishings and perfurmes. Throughout his career, Versace designed for such figures as Madonna, Prices Diana, Elton John and Tina Turner. He died on July 15, 1997. At the time of his death, Versace's company was worth more than $800 million.
Fashion designer Gianni Versace was born on December 2, 1946, in Reggio di Calabria, Italy. He was raised in the world of design, learning his trade at the hands of his mother who ran her own dressmaking business. Versace went to work for his mother after completing high school.
In 1972, Versace moved to Milan, where he began freelance designing for Italian labels Genny, Callaghan and Complice. Versace launched his own ready-to-wear collection for women in 1978. The business was always a family affair, with his brother Santo and sister Donatella working for him.
Top International Fahion Designers