FAMOUS INTERNATIONAL FASHION DESIGNERS
PIERRE CARDIN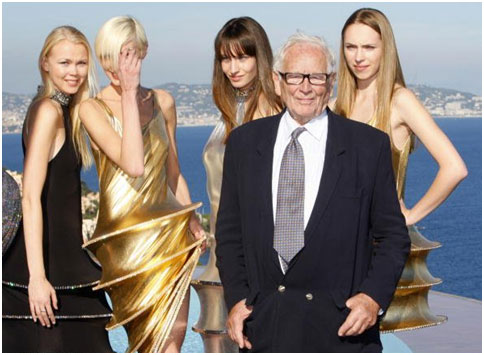 Pierre Cardin (French: [pjɛʁ kaʁdɛ̃]), born Pietro Cardin, is an Italian-born French fashion designer who was born on 2 July 1922, at San Biagio di Callalta near Treviso.Cardin is known for his avant-garde style and his Space Age designs. He prefers geometric shapes and motifs, often ignoring the female form. He advanced into unisexfashions, sometimes experimental, and not always practical. He introduced the "bubble dress" in 1954.
Pierre Cardin was also designated UNESCO Goodwill Ambassador in 1991. On 16 October 2009, Pierre Cardin was nominated Goodwill Ambassador of the Food and Agriculture Organization of the United Nations (FAO).
Combined with his entrepreneurial skills, Pierre Cardin was the first fashion designer to open up market in Japan in 1958 and then China in 1978. He was also the first French designer to challenge London's Savile Row by revolutionizing how the world looks at menswear. And in 1960, he was the first designer who applied the brand licensing system, which defined the business of fashion from that decade and beyond. Pierre Cardin was also one of the early believers in ready-to-wear. In 1959, he left haute couture and concentrated on prêt-a-porter, which in turn made fashion more available to a larger market.
Top International Fahion Designers