SRISHTI SCHOOL OF ART, DESIGN AND TECHNOLOGY
SRISHTI SCHOOL OF ART, DESIGN AND TECHNOLOGY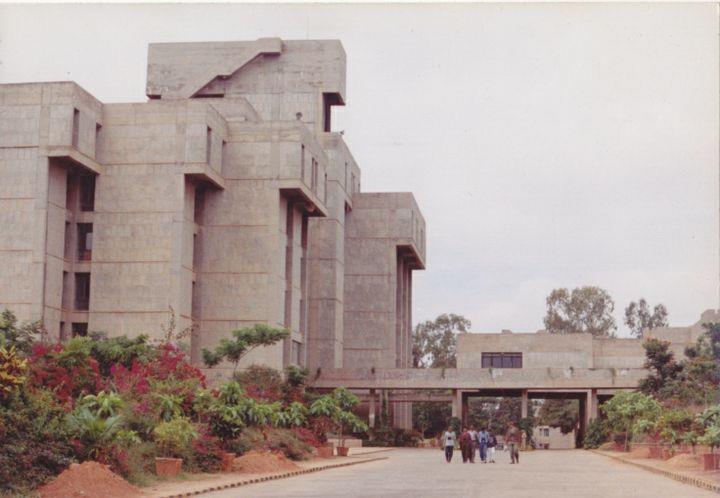 Srishti School of Art, Design and Technology was founded in 1996 by the Ujwal Trust with the objective of providing art and design education in an environment of creativity to maximize the individual's potential.The Ujwal Trust also manages Srishti's sister institution, the prestigious Mallya Aditi International School.
Srishti has state-of-the-art facilities including audio-video teaching aids and a library with an extensive collection of books, international journals and audio-video resources. The Srishti campus is networked and wireless working on Windows/Macintosh platforms. Srishti has a textile workshop with varied looms, a wood and metal workshop in-house and access to a fully equipped furniture workshop in Bangalore for making prototypes, exhibition structures and installations.
---
PROGRAMS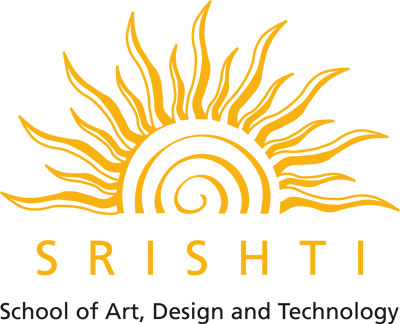 Academic Programs
Srishti offers three different academic programs with different durations of study for students at the undergraduate and postgraduate level.
Accessory Design
Fashion Communication
Fashion Design
Knitwear Design
Leather Design
Textile Design
1. Technical Diploma in Graphic Design
A Srishti – i-Nurture Collaboration at Deccan Education Society's Fergusson Academy of Creative Sciences, Pune.
The Technical Diploma in Graphic Design allows students to develop their graphic design skills while also having several opportunities to engage in real-life industry oriented design projects.

Duration : One Year
Eligibility : Candidates who have passed 12th grade/standard
2. Foundation Studies Program in Art & Design
The Foundation Studies Program exposes students to a holistic, heuristic and creative learning process that concentrates on the building of basic technical and conceptual skills in art, design and technology.
Duration : One Year
Eligibility : Candidates who have passed 12th grade/standard
3. Undergraduate Professional Diploma Program in Art & Design
The undergraduate Professional Diploma Program is committed to training students in the various fields of art and design and is facilitated by practitioners and specialists in these fields.
Duration : Three years
Eligibility : Entry into the first year (of the three-year program): Applicants must successfully have completed 12th grade plus one year of undergraduate studies in any field.
4. Postgraduate Advanced Diploma Program
The Postgraduate Advanced Diploma Program is a postgraduate level program in developing and extending practice, enabling participants to deepen their knowledge as an artist, designer, or practicing professional by reflecting and critiquing contemporary notions of practice, by building a network of people in the field of art and design, and by working with established artists, designers, researchers, educators, curators and experts in different fields.
Duration : One and Two years
Eligibility : Applicants are expected to hold an undergraduate degree or its equivalent. Applicants who do not have an undergraduate degree or its equivalent may also apply if they have substantial and significant experiential learning or work experience, a portfolio of work and written evidence demonstrating the meeting of graduate qualities that will enable undergraduate credit equivalency with Srishti.

Each focus area or specialization offered within the program has its own eligibility criteria. Applicants will need to check under the respective focus area or specialization to see if there is any further eligibility criteria required.
5. PhD Program in Art and Design
The doctoral program in Art and Design aims to inculcate competency in high-quality design, artistic, or scholarly work; this is based on rigorous research that makes an original contribution to the disciplinary core of design and creative practices with knowledge, methods, perspectives, and concepts. The program encompasses a range of scholarly research, design, and creative productions. Design encompasses a variety of creative fields, philosophies, techniques, practices, and products from engineering solutions to artistic interpretations; from systems design, to architecture and urban design. Art includes artistic and creative works, practices, and discourses that may be experimental, conceptual or critical. The program aims to nurture and develop artistic and design thinking as a humanistic field of research and knowledge production that in turn inform better practices of art and design.
Eligibility : One and Two years
Srishti School of Art, Design and Technology
C.A. Site No.16, Yelahanka New Town,
Doddaballapur Road,
(Opp. Wheel & Axle Plant)
Bangalore - 560 106
Phone: 91.80.40447000 / 40446964 / 65 / 66
TeleFax: 91.80.28560950
Email: admissions@srishti.ac.in / marketing@srishti.ac.in