World School of Design (WSD)
---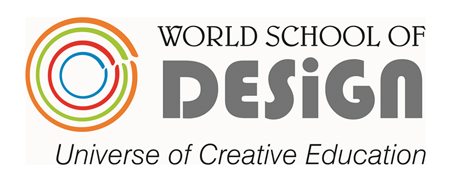 Design is not just about the way things look, it is also about the way they function. As India is poised for growth in almost all the fields, design is being looked upon as the key aspect in making India competitive. World School of Design (WSD) is responding to this need through its cutting edge, trans-disciplinary programs in the creative domains of Fashion, Design, Communication, Art, Architecture, Humanities & Management.
WSD proposes to soon become World University of Design (WUD) - India's first and only university dedicated to education in the creative domain. The proposal is under process of approval of the Private University Act of Government of Haryana. All degrees of WUD will be UGC approved.
Academic leadership is provided by Dr. Sanjay Gupta, former Dean of NIFT and ably supported by senior, experienced faculty sourced from premier art & design colleges of India and the world. WSD aims to provide abundant opportunities for international exposure as an essential part of its programmes. With one of its prime focus on 'learning by doing' WSD maintains high-tech labs, workshops, CAD rooms and even an Art Gallery on Campus. The WSD modern, air-conditioned, wi-fi campus & hostel of WSD is located in the fast developing Rajiv Gandhi Education City on NH1 in Delhi NCR, in the vicinity of eminent institutions like IIT Delhi, NLU, Ashoka University and NIFTEM.
WSD is promoted by the well respected RIMT Group of Institutions that has 2 decades of experience in running educational institutions of repute in Punjab including, the RIMT University - having over 12000 students and 1400+ faculty at campuses covering ~300 acres.
Admission procedure: Admission to WSD programmes is through an Aptitude Test followed by personal interview. Please check website for details.
Programmes of Study
The offering for 2017-18 is as follows:
SCHOOLS
Programmes
Duration
Eligibility
SCHOOL OF
DESIGN
Product Design
4 (UG)
10+2 level or equivalent exams like AISSCE/ IB/ ICSE/ State Board etc. (in relevant stream) Admission will be based on performance in Aptitudes Test (DAT/AAT or GAT ) followed by a personal interview. Architecture admission based on performance in NATA (or any other test advised by COA)
Interior Design
4 (UG)
Lifestyle Accessory Design
4 (UG)
SCHOOL OF FASHION
Fashion Design
4 (UG)
Textile Design
4 (UG)
SCHOOL OF COMMUNICATION
Graphic & Communication Design
4 (UG)
Advertising &  Media Design
4 (UG)
SCHOOL OF VISUAL ARTS
Creative Painting
4 (UG)
Photography
4 (UG)
SCHOOL OF MANAGEMENT
Design Strategy & Management
3 (UG)
Retail Business Management
3 (UG)
SCHOOL OF ARCHITECTURE
Architecture (B Arch)*
* Approved by AICTE and the Council of Architecture (COA)
5 (UG)
SCHOOLS
Programmes
Duration
SCHOOL OF
DESIGN
Industrial Design
2 (PG)
Minimum 4 year Bachelor's degree in Product Design/ Engineering/ Architecture or corresponding qualification after 12th. Admission through aptitude test and portfolio/interview.
Transportation Design
2 (PG)
Retail Design
2 (PG)
SCHOOL OF VISUAL ARTS
Art & Design History
2 (PG)
Minimum 4 year Bachelor's degree in Fine Arts or corresponding qualification after 12th. Admission through aptitude test and portfolio/interview.
Curatorial Practices in Arts
2 (PG)
Fashion Art
2 (PG)
Contemporary Art Practice
2 (PG)
Why Join WSD
Country's first design university with a unique integrated campus offering the synergy of Fine Art, Design and Architecture courses
Faculty and Leadership from world renowned institutions such as FIT-New York, LCF-London, NID, NIFT, SPA & TVB to name a few.
University-like 12 acre, green, air-conditioned, wifi campus
Hi-tech labs and Studio/ Workshops, material museum, Art Gallery etc.
Air-conditioned on-campus hostel facilities with kitchen and mess facilities/ menu designed by Master Chef
Multi-cultural environment with both Indian & International Students/Academicians.
APTITUDE TESTS 2017-18
The aptitude tests will consist of ONE question paper of 3 hours duration. The question paper will be in English. The question paper will carry a total of 100 marks. The question paper may consist of both objective and subjective type questions.
TEST CENTRES
Design Aptitude Test will be conducted in the following cities in India: Delhi, Sonipat, Mandi, and Chandigarh. WSD reserves the right to add/remove any of these centres and allot a test centre that may not be of the candidate's choice.
Admission procedure
Step 1. Filling the Admission Form
Students need to send completed application form available on the website along with a demand draft of Rs 1000 only.
Step 2. Aptitude Test
The students shall appear in the design aptitude test with the hall ticket made available online. The students shall be shortlisted on the basis of their performance and the list of students qualifying the next stage would be announced online. Valid scores of NIFT, NEED and UCEED exams can be considered in lieu of Aptitude Test.
Step 3. Campus Interview
The. student will appear in a personal interview conducted by an interview panel. The interview panel will ask questions related to the field of study selected by the student. Creative evidence (portfolio, drawings, photographs, crafts etc..) in hard copy may also be showcased.
Step 4. Offer of Admission/ Admission
Successful candidates will be made an offer of admission to join WSD. The offer will be sent via an email, followed by an official letter of admission via courier. Details regarding payment of fees at the time of admission, allotment of Hostel and date, time and venue for commencement of the academic session will be included in the admission letter.
Offer of admission will be valid only for the particular programme opted by the candidate in the given academic session. However request for change of programme may be considered after the first semester, subject to availability of seats.
In acceptance of the offer of admission to WSD, the candidates will have to appear in person at the campus along with original documents (educational qualification and relevant caste or disability certificate in the prescribed format as applicable) for verification, and pay the required fees.
Entrance Tests
DAT, AAT and GAT will be conducted by the World School of Design. The purpose of this process is to evaluate the aptitude of the student towards creative education and guide them to select the right career path according to his/her inherent skill sets.
Admission to the ARCHITECTURE* programme will be on the basis of marks obtained in the qualifying examination and the All India National Aptitude Test in Architecture (NATA) conducted by Council of Architecture (CoA). Candidates must submit their application along with a copy of their 10+2 marks card and NATA score card.
World School of Design (WSD)
(WSD is a constituent of the proposed World University of Design)
Plot No.1, Rajiv Gandhi Education City,
NH 1, Delhi-NCR - 131029, India,
T: (Delhi Office) 7056770060; (Campus)7056770058
(Lucknow Office) 916178005
Email : info@worldschoolofdesign.in
Website : www.worldschoolofdesign.in