PEARL ACADEMY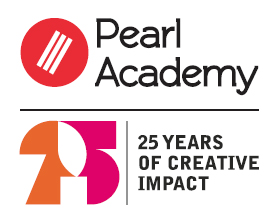 Since its inception in 1993, Pearl Academy has been persistently moving forward to carve a niche in the field of holistic education. Today, the Academy has evolved into a globally renowned institution of higher learning with a focus on Internationalism, entrepreneurship and employability; catering to the needs of the design, fashion, business, media and retail industry.
Pearl Academy with a legacy of 25 years of creative impact has metamorphosed into an industry leader that develops courses with an understanding of the needs of the entire spectrum of the industry. The Academy is a pioneer in the Indian market, combining hybrid blended learning and real-time lectures in a structured manner, thus making learning more effective and engaging.
Important Dates
Last Date of Application – 14th April
Entrance Exam Date –21th April
Result Date - 3rd May
Fees deposit last date - 25th May.
---
Courses Offered at
Pearl Academy
---
Course
Delhi NCR (west)
Noida
Jaipur
Mumbai
School of Fashion, Styling & Textiles
4 Year UG Course
FD
Fashion Design (Fashion Design/ Fashion Accessories/ Fashion Textiles)
y
y
y
y
FSID
Fashion Styling & Image Design
y
y
y
CD
Communication Design (Graphics / Interaction / Animation-VFX)
y
y
y
ISD
Interior & Spatial Design  (Interior Architecture/ Interior design)
y
y
y
y
PLD
Product & Lifestyle Design (Industrial Products/ Lifestyle Accessories)
y
y
y
FMC
Fashion Media Communication
y
y
3 Year UG Course
FLBM
Fashion & Lifestyle Business Management
y
y
y
GLBM
Global Luxury Brand Management
y
y
MC
Media & Communication (Journalism / Entertainment)
y
y
AM
Advertising & Marketing
y
y
2 Year PG Course
PGFD
Fashion Design (Fashion Design/ Fashion Accessories/ Fashion Textiles)
y
y
y
y
PGFSID
Fashion Styling & Image Design
y
y
PGFBMM
Fashion Business (Marketing & Merchandising)
y
y
y
PGLB
Luxury Brands
y
y
PGCD
Communication Design
y
y
PGIDS
Interior Design & Styling
y
y
y
y
PGFM
Fashion Communication
y
y
1 Year PG Course
PGMC
Media & Communication (Journalism / Entertainment)
y
y
2 Year MA Course
MAFT
Design (Fashion & Textiles)
y
MAFMG
Fashion Marketing
y
Professional Certificate - 11 months
Regular (9am - 12pm / 1pm - 4pm)
FD
Fashion Design
y
y
y
FMM
Fashion Media Make Up
y
y
y
ISD
Interior Styling & Decoration
y
y
DG
Advertising & Graphics
y
y
PP
Professional Photography
y
y
CBHM
Celebrity & Bridal Hair and Make-up (specialized cert)*
y
y
---
The Academy is continuously recognized for its endeavours and has been lauded with numerous honours and accolades. In 2017 the Academy has won the following laurels:
Amongst the Top 25 Colleges
- BOF (Business of Fashion) Global Fashion School Rankings 2017 (Graduate)
Best Design Institute in India
- ASSOCHAM
1st Among Top Fashion Colleges
- India Today Nielson Survey (Factual Rank)
Recognised as the Best Education Brand(2017) In Fashion Category
- The Economic Times
Best Private Fashion College in India
- OUTLOOK-DRSHTI SURVEY 2017
- THE WEEK-HANSA RESEARCH SURVEY
Best Vocational Education Institute of the Year- Interior Design
-Indian Education Awards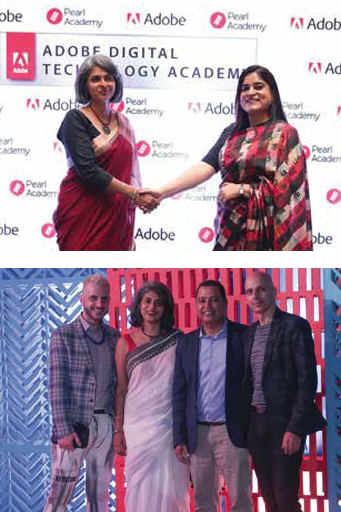 Keeping up with the dynamics of the market, the Academy collaborates with the best in the Industry to further strengthen the ability to deliver the unsurpassed experience to its students. These collaborations bring the best exposure through guest lectures and workshops, and many more opportunities. Recent collaborations include- Adobe partners with Pearl Academy to launch India's first 'Adobe Digital Technology Academy - Inking a new chapter in skill development, Pearl Academy, India's leading institution in design, fashion, creative business and media, entered into a strategic tie-up with Adobe, for the launch of 'Adobe Digital Technology Academy' – a unique program, designed to help learners of today, leverage the power of digital technologies and tools for skill building.
Pearl Academy and Amazon enter into an exclusive tie-up to showcase talented alumni's creations - : Pearl Academy and Amazon announced its exclusive initiative to showcase graduating students' and alumni's creations at the recently launched The Designer Boutique at Amazon.in. As Pearl Academy celebrates its 25 years of nurturing creative minds, this tie up is special for budding designers who would now get the platform to take their creations to millions of customers across the country.

Placements: With over 97% placement record, Pearl graduates are the most sought after among big brands and organizations of creative industries.
Career Development Cell: Several eminent speakers from the industry visit the academy to hold interactive workshops and share their wealth of experience with the students.
Live Industry Projects: Students get to work on real life projects bagged in by our expert teams from the best names/brands in the industry, ensuring live industry exposure.
Pearl Alumni Network: We have our official alumni network on Alma Connect for strength ensuring alumni relations and leveraging the network for increasing placements & branding.
Canvass: The Incubation Centre: An ecosystem that will foster and support innovation, creativity and knowledge based entrepreneurship amongst the Pearl Alumni community.

At Pearl Academy, students get numerous opportunities to learn the best global practices through several platforms & programs. With constant global exposure on offer, Pearl makes students ready for both national and international market:
Global Alliances: Pearl Academy is a member of the Laureate International Universities (LIU) network, which is a leading international network of quality, innovative institutions of higher education.
Global Faculty Exchange: International faculty exchange programs are an important part of Pearl Academy's teaching methodology. These exchange programmes are aimed at bringing global exposure within the four walls of the classrooms and preparing our students for international opportunities.
Student Exchange Programmes: Pearl Academy's education philosophy provides ample opportunities for motivated students to learn, experiment, improvise and evolve in order to develop the technological, business and diplomatic solutions needed to excel ahead in the competitive global environment.
Global Summer Course: Pearl Academy, in collaboration with NABA and DOMUS Academy (DA), Milan, Italy, offers miscellaneous summer courses for Pearl students.
International Students @ Pearl: Offering creative pathway in Design, Fashion, Media and Business, Pearl Academy invites students from international universities to experience the culture, heritage, knowledge and dynamics of one of the most vibrant country, India.

With an aim to ensure complete learning by every student and in order to give them all the tools and exposure required to be successful in tomorrow's industry, Pearl Academy has recently developed a learning-based model, Pearl Total Learning System (PTLS), which is embedded in its curriculum. This system ensures that every student gets the right opportunity to develop skills, knowledge, and motivation to embrace change, set trends and lead the change as an innovator and leader of the future.
The key features of Pearl Total Learning System are :-
Career Mentoring – 360-degree preparedness. This includes a tool to assess student professional competencies both at entry and final levels and helps students develop a career path for themselves.
Edge Courses for Success – Special skills for tomorrow's leaders. Students are taught special skills like Design Thinking, Digital Marketing and Entrepreneurship by industry experts from around the world.
Industry Integrated Circuit - Live Industry Projects with FDCI, INTACH and others, a 'Learn from the Masters' series and industry juries for final projects
Global Learning Project – Internationality for each student. Increased exchange opportunities plus an international experience lab along with beamed classes.
The 360-degree exposure through PTLS will deliver the competence and confidence required by you and your peers to achieve your career goals. The launch of the 'Adobe Digital Technology Academy' on all Pearl campuses is another acknowledgement of our industry partnerships in areas that we see as the most relevant for student success.
The endeavor of our incubation cell has been to support those students and alumni who want to be design entrepreneurs and as a part of this, recently, we announced an exclusive tie-up with Amazon India to showcase our students and alumni's creations at the newly launched 'The Designer Boutique' at Amazon.in. This opportunity has opened doors to millions of fashion customers across the country who visit Amazon.in.
---
Contact Pearl Academy AT -
Mumbai SM Center,
Andheri Kurla Road,
Next to Marol Metro Station,
Andheri (East), Mumbai – 400059
022 – 40585400 Registrar - registrar.mumbai@pearlacademy.com Admission Helpline - 7506412262

Delhi (West) A-21/13,
Naraina Industrial Area, Phase II,
Near Shadipur Metro Station
New Delhi – 110028.
011 – 49807100 / 101 Registrar - registrar.delhi@pearlacademy.com Admission Helpline - 8130566399

Delhi (West) Pearl Academy - Eros Building
District Centre, Rajouri Garden
New Delhi
011 – 49807100 / 101 Registrar - registrar.delhi@pearlacademy.com Admission Helpline - 8130566399

Noida B-25,Sector – 59,
Near Noida City Center Metro Station,
Noida – 201301, UP.
0120 – 4904000 Registrar - registrar.noida@pearlacademy.com Admission Helpline - 8130566377

Jaipur SP-38A
RIICO Industrial Area, Delhi Road, Kukas,
Jaipur-302028.
01426 – 414800 Registrar - registrar.jaipur@pearlacademy.com Admission Helpline - 9214077763 / 64/65