APEEJAY STYA UNIVERSITY
The Apeejay Stya University is a seat of global learning that offers rich opportunities for innovative teaching-learning, creativity and research across disciplines. It aims to bring about transformation of society through value-based education, man-making and nation-building, by blending together the dual identities of a technology and research based university with a liberal arts institution.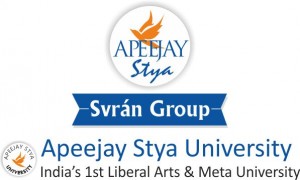 Established by the Apeejay Stya Education Foundation in the state of Haryana [under Act No. 10 of the Haryana Private Universities (Amendment) Act 2010], the ASU provides students not only 'education for living and livelihood' but also 'education for life', and empower learners with a fundamental foundation in leadership and professional skills to face the challenges of the new liberalized global economy.
Situated amidst a sprawling, picturesque campus with state-of-the-art infrastructure on the Sohna-Palwal Road in Gurgaon district of Haryana, the ASU offers a wide range of innovative graduate, postgraduate and doctoral programmes across a plethora of disciplines that are based on the best education practices of some of the leading universities of the world. These are greatly facilitated by the strong industry-academia linkages, already established by the existing Apeejay institutions of higher learning in all disciplines being offered by the University
---
OVERVIEW :
The programmes of the School of Design & Visual Arts have been framed to produce professional designers, artists, and design entrepreneurs who are capable of setting new trends, are dedicated to raising people's standards of living and wish to make the world a more beautiful place to be. The strengths of the School are intellectual capital, industry interface, consultancy, training & placement and student empowerment. There is a strong focus on developing soft skills such as communication, independent thinking, and sharpening entrepreneurial skills.
PROGRAMMES:
Bachelor's of Design (Duration: 4 years): Specialization Options- Fashion Design, Graphic Design, Interior Design, Animation & Multimedia.
M.A. in Design (Duration: 2 years): Specialization Options- Fashion Design, Graphic Design, Interior Design, Animation & Multimedia.
M. Design-Integrated (Duration: 5 years): Specialization Options- Fashion Design, Graphic Design, Interior Design, Animation & Multimedia.
PROGRAMME FEATURES:
STRONG LINEAGE: The School of Design and Visual Arts carries forth the legacy of over two decades built by the Apeejay Institute of Design (AID), New Delhi.
DYNAMIC COURSE STRUCTURE: Curriculum designed and developed in sync with the changing dynamics of the industry, wherein research forms one of the key thrust areas.
TRANS-DISCIPLINARY APPROACH: Discover and align your course with your individual interests in other disciplines.
STATE-OF-THE-ART STUDIOS: Design solutions which are conceptualized and fabricated at the campus itself, in its studios and labs.
GLOBAL EXPOSURE: MoUs & collaborations with leading foreign institutions/universities for students and faculty exchange along with curriculum/research support.
ADMISSION CRITERIA: BACHELORS & 5 YEARS INTEGRATED PROGRAMME
Educational Qualifications: 10+2/equivalent from any recognised board. A qualification from any Foreign Board needs an equivalency Certificate.
Admission Note: Students appearing/to appear in 10+2 examination are eligible to apply.
MASTERS (Duration: 2years) Educational Qualifications: Graduation Degree (3 Yrs in any specialization) from a recognised university.
A great career awaits
The emergence of traditional forms as commercially profitable sectors has led to a spurt in the number of students pursuing professional degrees in Design and Visual Arts. They may choose to become professional artists, or use their talent and knowledge to pursue a career in a more business-oriented environment. The students pursuing a Bachelors or Masters in the Design/Visual Arts stream from ASU can choose from a large spectrum of career options ranging from working in Art Studios, Advertising Agencies, Real Estate Firms, Publishing Houses and Fashion Houses to teaching, direction, photography, television anchoring, fashion designing, art direction for magazines and other on-line services. The highly practical and industry-inspired curriculum at ASU further hones their skills to become professional designers.
Laboratories and Workshop facilities
All creative ideas and concepts are frozen in well-equipped design studios with facilities like spot lighting, full-scale boards for freedom to sketch and illustrate and custom-designed furniture to set the right mood for students of design.
The students have access to state of-the-art computer labs and latest graphics/design software to shape their ideas into reality.
Each specific area of Design Studio is attached to a specific workshop. Fashion Design, for instance, is attached to a Fabrication Lab, wherein, all design concepts are actually fabricated into garments with the help of latest machines
Similarly, visual concepts are carried out in the Photography Lab and all design concepts of the interiors are fabricated in the Carpentry Workshop aided with the latest equipments
The University has made great efforts to equip each Workshop with the elementary and specialised tools, and equipment for students to explore and achieve the desired design results.
This caters to all the areas of design— Fashion, Interior, Graphic, Animation & Multimedia.
---
Training & Placement
Apeejay students have been placed with annual packages of upto Rs. 12 lakh in India & USD 30000 internationally last year.
The Apeejay Stya University builds on the Apeejay legacy of 45 years of experience in education. The University has a dedicated experienced placement centre to help students find careers that match their strengths and passions. The University's academic system develops balanced learners and leaders who become great human beings and bring much more to the table than just their excellent industry-focused skills.