APEEJAY STYA UNIVERSITY
The Apeejay Stya University is a seat of global learning that offers rich opportunities for innovative teaching-learning, creativity and research across disciplines. It aims to bring about transformation of society through value-based education, man-making and nation-building, by blending together the dual identities of a technology and research based university with a liberal arts institution.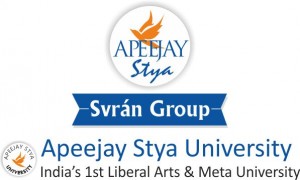 Established by the Apeejay Stya Education Foundation in the state of Haryana [under Act No. 10 of the Haryana Private Universities (Amendment) Act 2010], the ASU provides students not only 'education for living and livelihood' but also 'education for life', and empower learners with a fundamental foundation in leadership and professional skills to face the challenges of the new liberalized global economy.
Situated amidst a sprawling, picturesque campus with state-of-the-art infrastructure on the Sohna-Palwal Road in Gurgaon district of Haryana, the ASU offers a wide range of innovative graduate, postgraduate and doctoral programmes across a plethora of disciplines that are based on the best education practices of some of the leading universities of the world. These are greatly facilitated by the strong industry-academia linkages, already established by the existing Apeejay institutions of higher learning in all disciplines being offered by the University
---
OVERVIEW :
The programmes of the School of Design & Visual Arts have been framed to produce professional designers, artists, and design entrepreneurs who are capable of setting new trends, are dedicated to raising people's standards of living and wish to make the world a more beautiful place to be. The strengths of the School are intellectual capital, industry interface, consultancy, training & placement and student empowerment. There is a strong focus on developing soft skills such as communication, independent thinking, and sharpening entrepreneurial skills.
PROGRAMMES:
Bachelor Course (4 Years)
Master Course (2 Years)

B.Design In Fashion Design
B.Design In Graphic Design
B.Design In Interior Design
B.Design In Animation & Multimedia

M.A. in Fashion Design
M.A. In Graphic Design
M.A. In Interior Design
M.A. In Animation & Multimedia
Bachelor's of Design (Duration: 4 years): Specialization Options- Fashion Design, Graphic Design, Interior Design, Animation & Multimedia.
M.A. in Design (Duration: 2 years): Specialization Options- Fashion Design, Graphic Design, Interior Design, Animation & Multimedia.
Admissions:
Apeejay Stya University prides itself on the quality of its students. We look for six essential indicators when reviewing a complete application. These include:
Intrinsic thirst for knowledge
Demonstrated Leadership and Determination
Academic and Intellectual Ability
Extra-Curricular activities
Community Service
Athletic Ability and Sports
We are looking students who are determined to succeed. Therefore, we look at what they have achieved in the context of the resources they had access to and the circumstances of their upbringing.

---