NIFT 2022 Toppers from Hyderabad AFA have proved that determination, focus, and hard work is the only way to success. The names of students from AFA Hyderabad who are NIFT Toppers is given below along with their AIR.
The NIFT 2022 Toppers from Hyderabad AFA with their AIR Ranks and made Hyderabad proud are: Gayathri – 8, Sharanya– 10, Bhavana – 14, Preethi – 23, Gade Varsha – 30, Femina – 50, Nikhil – 93, Gauri – 365, Akhila – 452, Fatima – 622, Vanshika – 818, Hunvitha – 856, Supriya – 971, Sharvani – 1014.
Sejal(MFM) – 12
Pavani(M.Des) – 52
Over the last decade, the number of students selecting jobs other than the so-called "conventional" ones like medical and engineering has increased considerably. Many students who possess the requisite skills to want to pursue creative careers in fashion, art, and architecture design, as well as technology.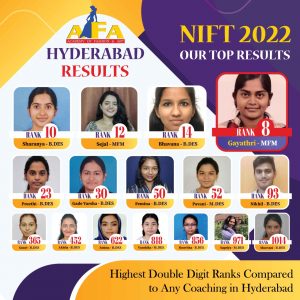 So if you want to see yourself in the image for 2023 by becoming the NEXT NIFT 2023 Topper Join The Academy of Fashion and Art – The Best Coaching for NIFT Preparation
Now, let us share their experience with AFA and how they were able to crack the most difficult Design Entrance Exam.
What do the AFA Hyderabad Toppers have to say about their NIFT 2022 Results?
Though the last Covid affected year was a complete life-changer for all of us, still thinking of it now, though gives us the same chill, but the NIFT 2022 results changed it into a thrill. The mentors at AFA Hyderabad gave impetus to students to achieve such results in the NIFT 2022. They have been a great support and the driving force for us through the tough times. The migration of the classroom coaching mode into NIFT Online Coaching mode did come with some initial hiccups for both us, students and teachers, but steadily everything settled and became smooth and efficient.
What do students have to say about creative careers?
We are well aware of the repercussions of growing urbanization as students. This has resulted in a surge in demand for creative career professionals in art, design, and architecture. And, prominent institutions and universities that provide vocational courses, such as the NIFT, are responding to the current need by introducing a variety of departments and design disciplines to cater to our creative employment inclinations. Therefore, as students, we are in numerous ways motivated to seek a career in an area where we thrive.
NIFT 2022 Toppers from Hyderabad AFA Prove Creative Careers as Demand of the Day
The NIFT 2022 Toppers from Hyderabad AFA believe that by 2022, there will be no such thing as unconventional careers. If a professional is needed in a specific field, there must be a way to gain the abilities required for that field. In the fields of art, fashion, and design, for example, globalization has opened up a plethora of professional opportunities. The fact that environmental degradation is currently the most pressing concern has enabled us to learn new, innovative, and progressive skills in order to not only advance our careers but also to contribute to making the world a better place to live through a variety of creative and unconventional approaches such as product recycling and the creation of environmentally friendly re-usable goods.
NIFT Counseling 2022
The registration process for the NIFT 2022 counseling will begin in June, 2022. After the first round, two more rounds will be conducted. Only those who passed the entrance exam will be allowed to participate in the NIFT 2022 Counseling.
NIFT Counseling Procedure 2022
To register, the candidates will have to provide their details such as their name, date of birth, and password. They will also be required to choose a campus that they can attend. After completing the registration process, an email will be sent to the candidates with a link to their account.
The candidates will be called for the NIFT 2022 counseling based on their performance in the entrance exam.
After completing the registration process, the candidates will have to pay the fee at the NIFT campus. The nodal officer will then issue the allotment letter.
How to book slots for NIFT 2022 Counselling Process?
 
Step 1 – Go to NIFT's official website, which is nift.ac.in.
Step 2 – Select the appropriate tab for counseling registration.
Step 3 – Enter your login information, including your roll number, registration number, and date of birth.
Step 4 – After that, you must register by entering basic information such as your date of birth and registration number.
Step 5- Make a payment of INR 5000 for the counseling procedure registration. (as in the previous year) Following that, choice filling for college and course selection takes place.
Students are called for document verification after seat allocation is completed.
Documents Required for NIFT Counselling
10th & 12th mark sheet
Degree mark sheet and Certificates (if applied for PG course)
Category certificate
Affidavit of provisional admission
Bank Draft
Transfer Certificate
Provisional call letter, etc.
Several Passport size photographs
NIFT Cut Off –
The NIFT entrance exam is conducted every year. The authorities of the institute then shortlist the candidates based on the results. Those who meet the entrance exam's cutoff are eligible to join the university's academic program. The institute also releases the various course and college-wise cutoff marks.
Below we share the most awaited information for the NIFT 2022 Toppers from Hyderabad now ready to start their counseling procedure.
NIFT Seat Intake for admissions for the year 2022
| | |
| --- | --- |
| Colleges | Seat Availability (Open SC, ST, OBC, Gen-EWS, etc + NRI/OCI/Foreign Nationals/SAARC + State Domicile) |
| NIFT Delhi | 376 + 48 |
| NIFT Bengaluru | 338 + 43 |
| NIFT Jodhpur | 248 + 18 + 42 |
| NIFT Bhubaneswar | 204 + 18 + 42 |
| NIFT Patna | 204 + 18 + 42 |
| NIFT Chennai | 338 + 43 |
| NIFT Panchkula | 204 + 18 + 21 |
| NIFT Mumbai | 304 + 40 |
| NIFT Gandhinagar | 300 + 38 |
| NIFT Hyderabad | 266 + 35 |
| NIFT Kannur | 238 + 21 + 49 |
| NIFT Kolkata | 304 + 40 |
| NIFT Srinagar | 136 + 0 + 48 |
| NIFT Kangra | 204 + 18 + 42 |
| NIFT Raebareli | 228 + 30 |
| NIFT Shillong | 170 + 15 + 35 |
| NIFT Bhopal | 170 + 15 + 35 |
For Course-wise / Program-wise seat allocation you may refer to the NIFT 2022 Prospectus.
AFA Hyderabad congratulates its alumni and wishes them the best of luck in their future endeavors. This kind of achievement was made possible not only by undeterred efforts but also by the overall performance of both teachers and students in collaboration.