Like it does for many of us, the terms "CEED" and "UCEED" may be a little confusing to you. In order to allay your concerns, let me simply outline the key distinctions. For applicants to the Bachelor of Design Program, UCEED is a comprehensive entrance exam, as opposed to CEED, which is a requirement for admission to the Masters of Design Program.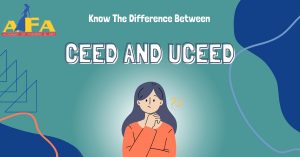 UCEED vs CEED
In this blog, let's learn more about the these exams and understand the difference between CEED and UCEED exam.
More About UCEED
The Indian Institute of Technology, Bombay offers the Undergraduate Common Entrance Examination for Design (UCEED) as a means of admission. It is a combined entrance exam for admission to the Bachelor of Design programmes at the IITs in Bombay, Guwahati, and Jabalpur, Hyderabad, Delhi. Candidates who pass the UCEED exam must submit a second application for admission in accordance with the college's requirements. Merit in each category is taken into consideration while determining admission to the B. Des program.
Exam Format For UCEED
The examination is purely objective in nature, conducted online.
It is divided into two parts i.e.., A and B
Part A is further divided into 3 sections.
Part B is designed to evaluate your ability to draw.
The exam is in English, and you have 180 minutes to complete it.
Candidates clearing part A , the evaluation of  part B exam will be done.
Exams would be conducted in English.
UCEED 2023 Eligibility Criteria
The HSC test/10+2 board exam must be successfully passed in 2022for candidates to meet the UCEED 2023 eligibility requirements.
Students who will be taking the 10+2 board exam in 2023 may also apply for admission through UCEED. They must, nonetheless, pass the qualifying exam when applying; else, their application for admission to an undergraduate design programme would be rejected.
IIT Bombay, IIT Delhi, Guwahatiand IIT Hyderabad accept applications from students who have passed their qualifying exams in any of the following fields: commerce, arts & humanities, science stream without math, physics, or chemistry.
Candidates for BDes admission at IIITDM Jabalpur must have completed 10+2 in Physics, Chemistry, Mathematics, or Biology.
Candidates who successfully complete the 10+2 exam or its equivalent in the Science with PCM as their subjects may apply for admission to various design B.Desprogrammes of undergraduate study at IIT Bombay, IIT Delhi, IIT Hyderabad,  IIT Guwahati and IIITDM Jabalpur.
More About CEED
The Common Entrance Examination for Design (CEED) is a prerequisite for admission to the Master of Design (M.Des.) programmes at the IISc Bangalore, the IIT Bombay, the IIT Delhi, the IIT Guwahati, the IIT Hyderabad, IIT Roorkeeand the IIT Kanpur, as well as the PhD programmes in Design at select Institutes. Indian Institute of Technology Bombay administers the CEED examination (IIT Bombay). The purpose of the CEED exam is to evaluate applicants' design aptitude, which includes visual perception ability, drawing skills, logical thinking, creativity, and communication abilities. From the moment the results are announced, the CEED score is valid for two years.
It is divided into two parts i.e. A and B.
Part is purely online, but part B is offline.
Duration for part A is for 1 hour and for part B it is 2 hours.
Part A tests candidates' visual and spatial abilities, environmental and social awareness, analytical and logical reasoning, language and creativity, observation, and design sensitivity.
Part B is conducted to evaluate a candidate's sketching, creativity, communication, and problem-solving abilities.
Candidates clearing part A , the evaluation of  part B exam will be done.
Exams would be conducted in English.
CEED Eligibility Criteria
After passing the 10+2 level, candidates must complete a 3-year degree, diploma, or postgraduate degree program.
Aspirants for CEED must be scheduled to participate in a three-year degree, diploma, or postgraduate program's final examination in 2023. They must, however, pass their qualifying exam at the time of admission; otherwise, they must be a GD Arts diploma (10+5 level) passable by July 2023.
According to the requirements for CEED, there is no set age limit.
There is no cap on the number of CEED attempts.
Final Thoughts
As we come to the end of this piece, we genuinely hope that it has allayed your concerns about the UCEED vs CEED examinations. We are confident in saying that IIT is more than engineering, despite the common misconception that it is all about engineering. Those who are committed to succeed in the design industry should give UCEED and CEED serious consideration because they significantly boost the value of their abilities, knowledge, and resumes. So, in our point of view, start researching further and think about taking these tests, and keep in mind that UCEED is a bachelor's degree whereas CEED is a master's degree.
We sincerely hope that you find this post to be of the utmost value and assistance.