NIFT - NATIONAL INSTITUTE OF FASHION TECHNOLOGY
NATIONAL INSTITUTE OF FASHION TECHNOLOGY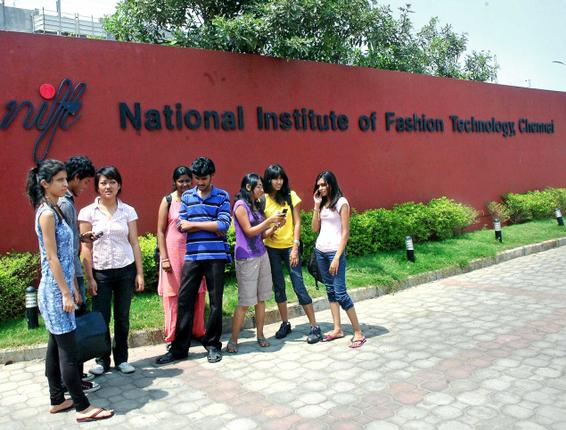 National Institute of Fashion Technology was set up in 1986 under the aegis of the Ministry of Textiles, Government of India. It has emerged as the premier Institute of Design, Management and Technology, developing professionals for taking up leadership positions in fashion business in the emerging global scenario
The Institute is a pioneer in envisioning and evolving fashion business education in the country through a network of fifteen professionally managed domestic centres at Bangalore, Bhopal, Bhubaneswar, Chennai, Gandhinagar, Hyderabad, Jodhpur, Kangra, Kannur, Kolkata, Mumbai, New Delhi, Patna, Raebareli and Shillong.
National Institute of Fashion Technology has emerged as a leader in fashion education with the ability to integrate knowledge, academic freedom, critical independence, creative thinking. A history of being in existence for 27 years stands as a testimony to our fundamentals where academic excellence lies at the core. The institute has stood as a beacon of serious critical engagement, a key enabler in developing competent professionals.
---
PROGRAMME ELIGIBILITY
BACHELOR PROGRAMMES (B.DES.)
DURATION : 4 YEARS
Maximum Age: 23 years as on 1st October, 2013. The upper age limit shall be relaxed by a period of 5 (five) years for the candidates of Scheduled Castes/Scheduled Tribe/ Differently Abled Person (PHP).
BACHELOR PROGRAMMES
Eligibility : 10 + 2 from a recognised Board of Education
Accessory Design
Fashion Communication
Fashion Design
Knitwear Design
Leather Design
Textile Design
BACHELOR PROGRAMME (B.FTECH.) - TECHNOLOGY
Apparel Production, 10 + 2 (with Physics, Chemistry & Mathematics) from a recognised Board of Education.
MASTERS PROGRAMMES (2 YEARS)
For Masters Programmes : Age - No age limit
Eligibility
Undergraduate Degree from any Institute / University recognized by law in India or Diploma in UG Design from NIFT / NID only / Undergraduate Diploma of minimum three years duration from NIFT / NID.
MASTER PROGRAMME (M.DES.) - DESIGN SPACE
Design Space is an advanced course that demands an understanding of fundamentals in design and presupposes that candidates would be familiar with the basic skills and theories for successful completion of the programme.
NIFT programme would not provide any basic knowledge and skill development in design as a part of Master programme.
Undergraduate Degree from any Institute / University recognised by law in India or Diploma in UG Design from NIFT / NID only.
HOW TO APPLY : SUBMISSION OF APPLICATION FORM
Candidates can apply online at www.nift.ac.in or https://applyadmission.net/nift2015 Guidelines for applying online may be referred for the purpose. The applicant need not buy the Admission Prospectus as the Prospectus is available at NIFT website www.nift.ac.in free of cost. However, the Application Fees has to be paid either through online payment gateway or through Bank Demand Draft issued in favour of "NIFT HO" payable at New Delhi.
Fees for General/OBC (Non-Creamy) Category: Rs.1200/- through payment gateway or Demand Draft.
Fees for SC/ ST/ PHP Category : Rs.600/- through payment gateway or Demand Draft.
Mode of Payment: Credit Cards/Debit Cards & Demand Draft
CAREER
The programme equips students to pursue careers in areas of Apparel Technology Management, Industrial Engineering, Quality Management, Production Management, Garment Fit, Supply Chain & Logistic Management, Merchandising, CSR, Business Analysis, Research & Development and Consultancy in the global fashion industry.
ENTRANCE EXAM
NIFT conducts its national level common entrance exam in the month of february and lasts with the situation test end in the month of april. And finally with the ranks and counselling candidates are followed with the admission procedure
NIFT conducts these kind of tests at various centres which they have appointed for the common entrance exam as well as with the allotment of the situation test exams.
These test are based on creativity, capability of the candidate to judge and find out the best for the national categories.
NIFT - NATIONAL INSTITUTE OF FASHION TECHNOLOGY
Ministry of Textiles, Government of India. NIFT CAMPUS.
NEW DELHI : Hauz Khas, Near Gulmohar Park,
New Delhi - 110016